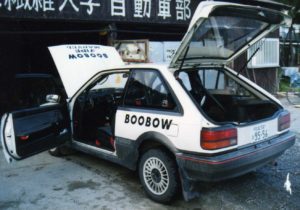 My car, which I got at the age of 19 after working part-time, was a pre-owned Mazda Familia Full-time 4WD (Model: BFMR) for rally competiotion that could participate immediately (in front of the automobile club activities room of the Kyoto Institute of Technology in 1990).
The body with a six-point roll cage is fully reinforced welded, such as a plate for each part.
The fighting power of the full-time 4WD turbo has grown in expectations, but i can't get the acceleration I expected.
Because it was a time when I knew little about the operation and maintenance, the accelerator was always fully opened without maintenance well while feeling the trouble of the transmission and the turbocharger.
A transmission that starts to sound intensely every time I put it in a second gear or a third gear.
A large amount of white smoke spewing out of the muffler when turbocharged.
As a result of fully open running without worrying about it, the engine oil was lost (oil pressure warning was broken) and the engine and transmission were ruined by metal blow.
I was competing in the same class (C-class) as a high-power car such as Mitsubishi Galant VR4 (E38A) at that time, but my driving skill was poor and did not get good results, and I decided to change the class (B-class) because of the high repair cost.
I really wanted to ride a car that was in a good condition to compete on the front line, and the next car I got with three part-time jobs was the Nissan March R (model: EK10).
At that time, there was a twin charger car called March Super Turbo, but March R is another.
The displacement is stroked down to 930cc to be less than 1600cc (B-class) even if multiplied by the supercharger coefficient of regulation, supercharger to supercharge from the vicinity of the turbocharger and idling rotation larger than the super turbo, With a 5-speed closing gear-ratio transmission and a 740kg lightweight body, the zero start acceleration feels faster than the same Nissan's Skyline R32 GT-R.
The engine room, equipped exclusively with March R, was not equipped with a comfortable air conditioner.
The front-wheel drive lightweight high-power car kept the front nose capturing the in-side of the curve, smoothly starting the tail, and was able to run downhill, which was fearful.
It was a nostalgic car that was able to control the behavior of the car, and gained a sense of accomplishment to control the car (the left back was the Suzuki Cultus AA34S of the friend who came to the relief though it was too much momentum, and it was such a de-wheeling on the gravel road.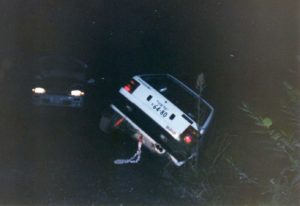 Following "Reminiscences of My School Days (March R – Hachiroku AE86 GT APEX)"