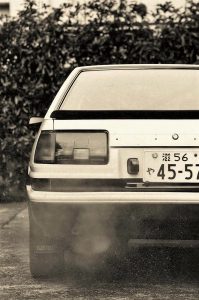 I obtained automobile license by the method of taking only the examination without going to the license school. It was less than one-tenth of the general cost.
Because (only one reason) I would like to save money. And I wanted to get my own car soon.
In the midst of the supercar boom, I grew up in a town with dense small and medium-sized factories, and I dreamed making a real car by picking up many bolts found on the street with my friends.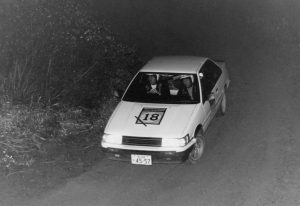 With such a thought, I went on to university, and with three students working part-time, I had to pay for my school expenses, living expenses, and my car.I rode 40,000 to 50,000 kilometers a year on a dream vehicle that expanded the range of action at once. I did not study much, and was absorbed in rally activities in the athletic meet automobile club every day.
 
I met Hachiroku (Toyota Corolla Levin model year 1984), my last partner in my life. In the early summer of 1992, when I was 21 years old.At this time, the car is already the fourth.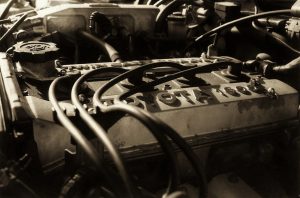 In addition to the exhausted tires and brakes, the cost of maintaining each part was a huge burden for the students.Basically, any maintenance cannot continue without your own hands.
However, Hachiroku by my side was very serviceable, and when I think about it now, I was able to make it with a very childish technique and tools.Compared to modern cars, the structure is simple, easy to understand, fast and stable, and the driving and maintenance techniques for completing the rally were followed through the guidance of seniors and actual experience.
"Let's divide cars with hobbies."
 
I told myself so, and after graduation, I got a job at a precision equipment manufacturer, but i retired after five years and a little while.
I decided to work closer to cars, and I have obtained a national mechanic qualification to reach the present day.
Cars that have lost their condition due to improper maintenance and parts installation.
Proper action can bring out the original performance.There is also a lot of know-how that is not written in the maintenance guidelines.
And what's more important is our relationship with our customers.It is only when I gain the understanding of the customer in various aspects such as the condition of the failure and the cause, repair cost, and schedule adjustment, my performance is demonstrated.
We will respond sincerely, so please contact us if you have any problems.
ITS (Ikari Technical Service)
Representative Takeshi Ikari

1970 Born in Shiga Prefecture
1995 Graduated from Kyoto Institute of Technology, Department of Electronics and Information Engineering
Belongs to the Athletic Association Automobile Club when I was a student.
Learn the basics of automobile maintenance through rally activities and experience the joy of driving
After graduating, I entered a precision equipment manufacturer in Tokyo.
2001 Retired from precision equipment manufacturer
Started public vocational training for automobile maintenance for two years from the same year
2003 Acquired a second-class automobile mechanic qualification and worked at a factory designated by the Transportation Bureau in Shiga, Japan.
In the same year, the 20th Shiga Prefecture Automotive Maintenance Skills Competition, 2nd place in the Advanced Diagnosis Category
2005 Obtained a qualification for automobile inspector and vocational training instructor license (Automotive Maintenance Department)
From the same year, he worked at the Transportation Bureau certification factory in Kyoto.
2006 Started writing blog"Garage Takeshi-kun"
2011 ESTABLISHED ITS (Ikari Technical Service) (Web site administration)

…