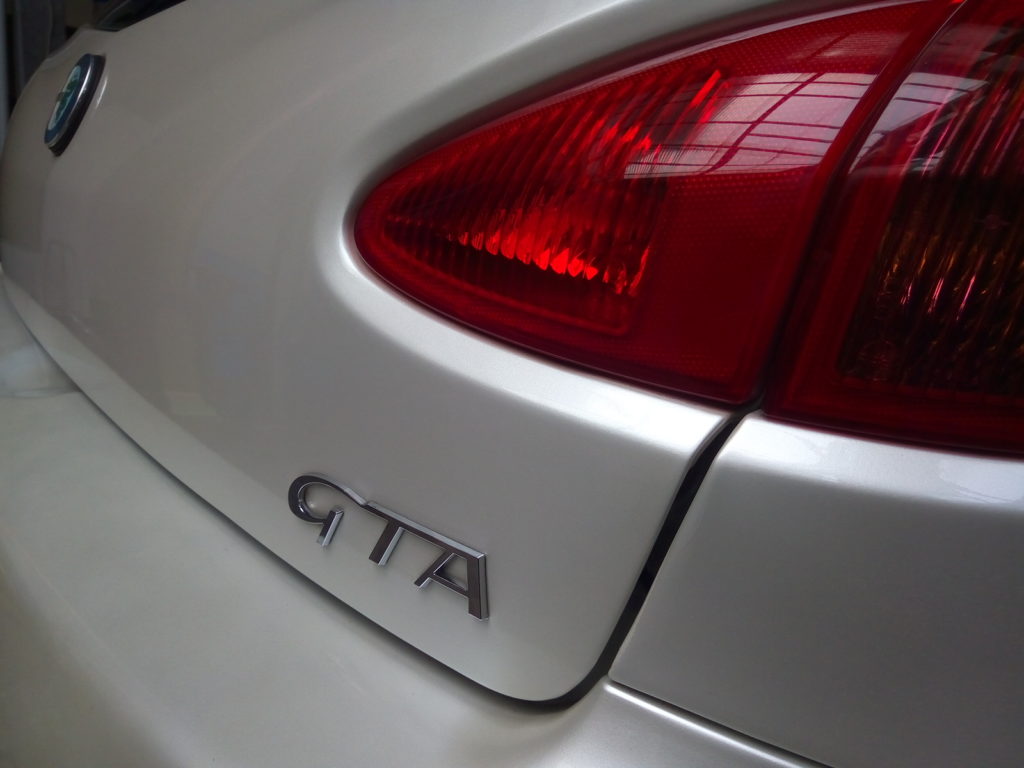 Alfa Romeo 147GTA owner always asks an alfaromeo dealer for maintenance from a new car continuously.
On the other hand, I have been only changing engine oil for several years.
The engine with a large displacement of 3.2 liters is specified by the SAE 10W60, a Serenia brand named Racing, an Alfa Romeo original engine oil.I have prepared MOTUL's RB26DETT (a bold Skyline GT-R exclusive product named) with the same SAE viscosity.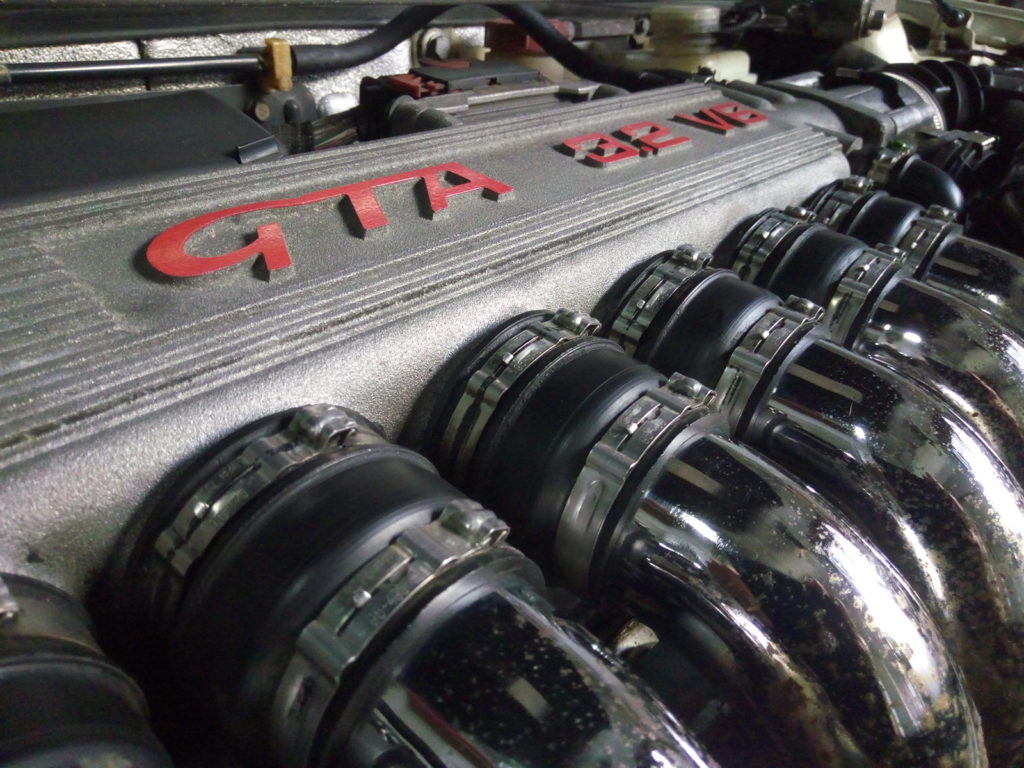 MOTUL RB26DETT with a sweet aroma peculiar to ester engine oil.Immediately after the oil change, the impression that the noise disappears and becomes a refined engine sound, Owner repeats many times from the goodness of the engine feeling.
MY2002 GH-937AXL V6 3.2L GTA 6speedM/T Mileage 172,000km
He is said that he relatively drives on a highway-road, and a total mileage is quite high.
"Is it okay to drive far away by Alfa Romeo?"And to be frank,
"Well, I get stuck about once a year.I wonder if there are relatively many clutch systems.However,since it is a manual mission, it has not been able to be managed yet, or it has not been able to be helped." the answer that does not disappoint (laughs).
Well, the deterioration of the shock absorber, which had been a little worrisome for a long time, felt a clear lack of damping power at the time of the most recent oil change.
In particular, the swing convergence time on the rear side is long, and the vertical movement pulls the tail a little.
When I told the owner, the distance from the last shock absorber exchange, the number of years has passed, and it seems that you were worried about the deterioration of ride comfort.
It is currently installed in KONI's FSD.It is the same brand top level model in the genuine shape.The reason for the selection was that the genuine seems to be expensive, and that it is because it is a genuine shape product without the vehicle ride height change.
However, according to my research, the shock absorber with a genuine shape and no change in vehicle ride height is only part of Bilstein.KONI came out with all models nonconformity.
The Bilstein B6 is almost the same price as KONI FSD, but the delivery date is undecided due to the lack of a shock absorber on the rear side.
When I checked whether the genuine shock absorber was really expensive, it was almost unchanged or rather reasonable, and fortunately there was domestic stock.We will immediately arrange them together with related parts and work on them.
I was prepared to some extent because I was traveling in a snowfall area, but I struggle with bolt sticking that exceeds my expectations.
In particular, this long bolt connects the rear control arm, hub, and shock absorber, and it adheres firmly because there is a lot of external exposure.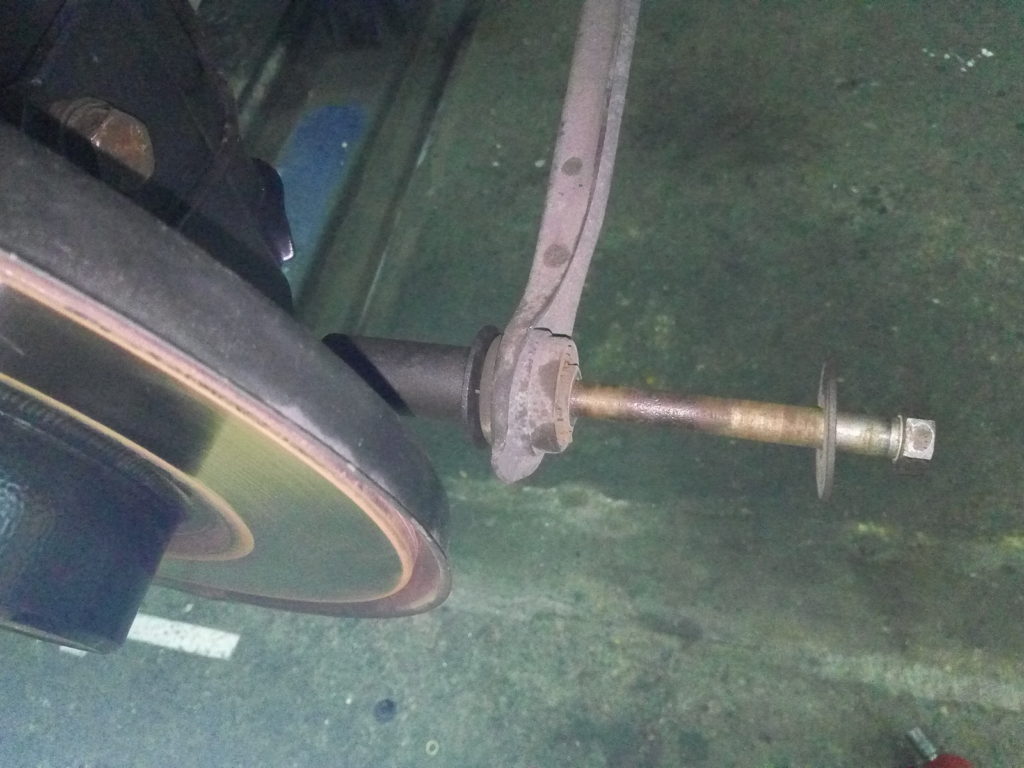 It takes about a whole day to take it out to this point.
A bolt that hardly moves even if the power of the body is put in a 30-inch breaker bar, even though the head is twisted nearly 90 degrees.The material was very good unlike that of japanese products, and there was no sign of breaking even with intense torsion.
Slightly loosen with a sharp sound.And familiar with applying a lubricant.Repeat this.
It may be able to be taken if I heat it by acetylene, but there are parts in the vicinity that are unlikely to withstand heat, such as nitrogen gas-encapsulated absorbers, hub bearings, and ABS sensor plates.
It is a bolt that endured without breaking, but I prepared a new one because it was deformed into an snoring.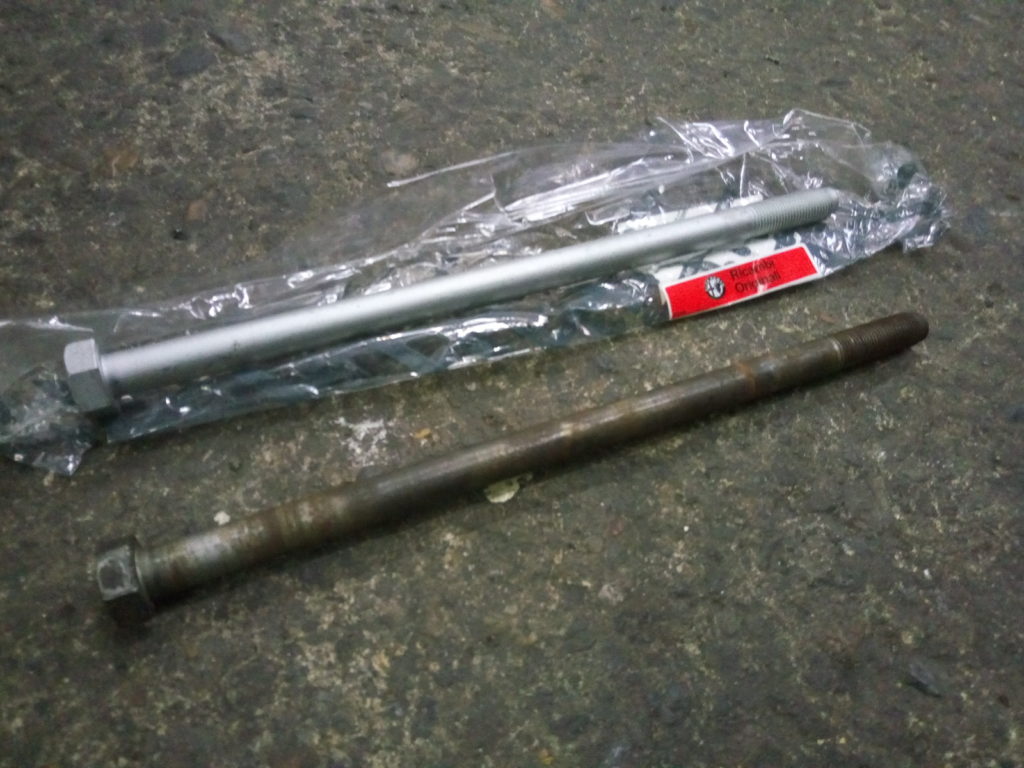 Koni's shock absorber, which was removed in such a way (the corrosion marks are tremendous), was so degraded that the piston rod easily shrank by hand and they ware not returning to its most extended length.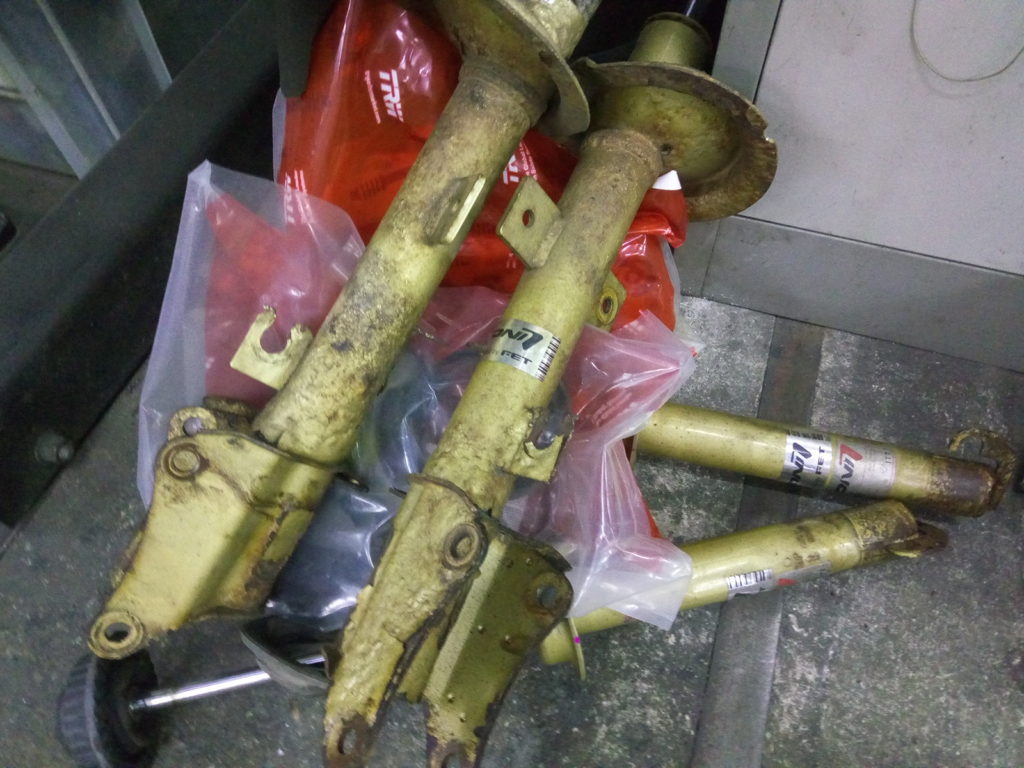 The reason why KONI was incompatible was clear (Gold: KONI, Black: Genuine).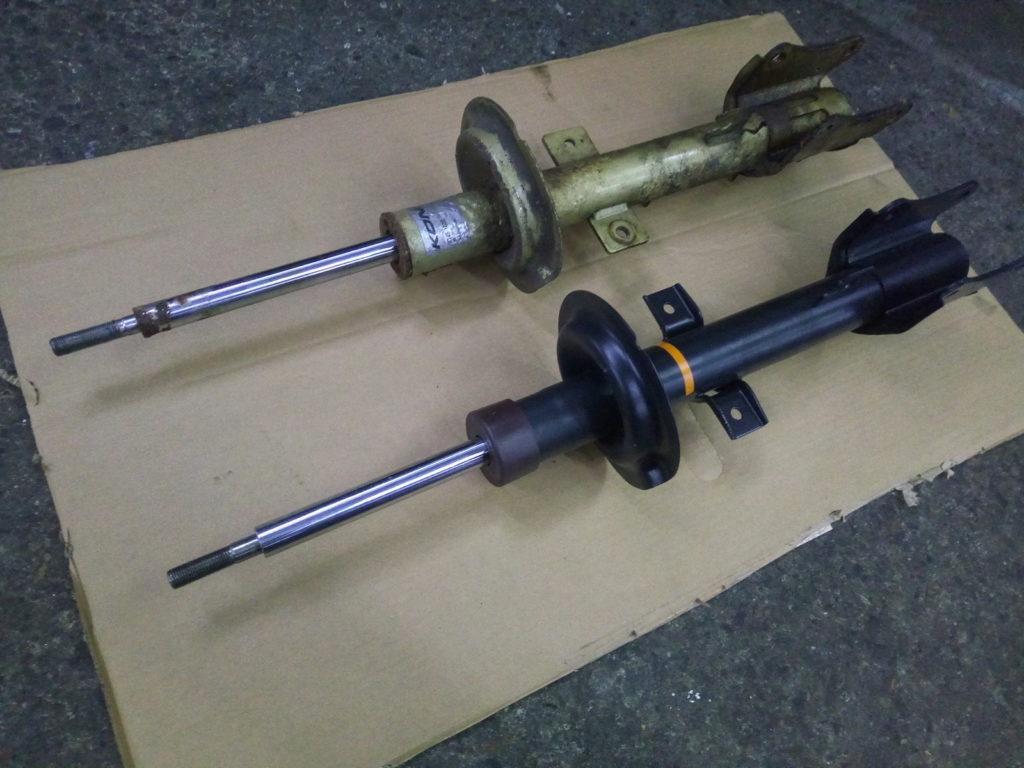 KONI has a long 30mm piston rod.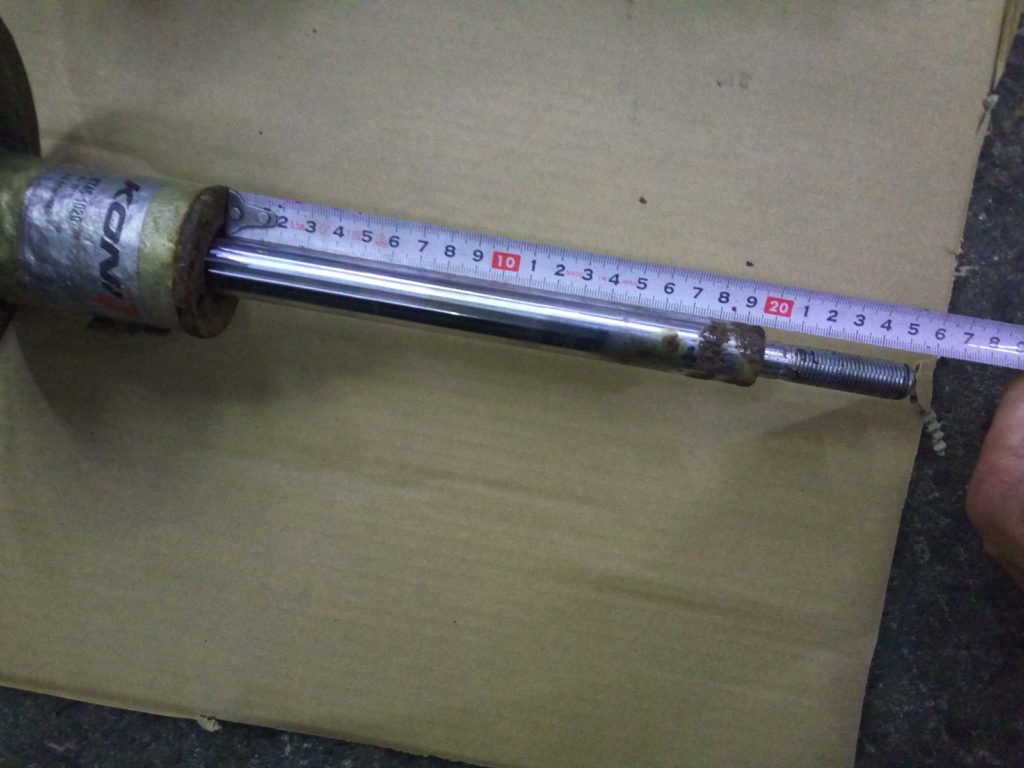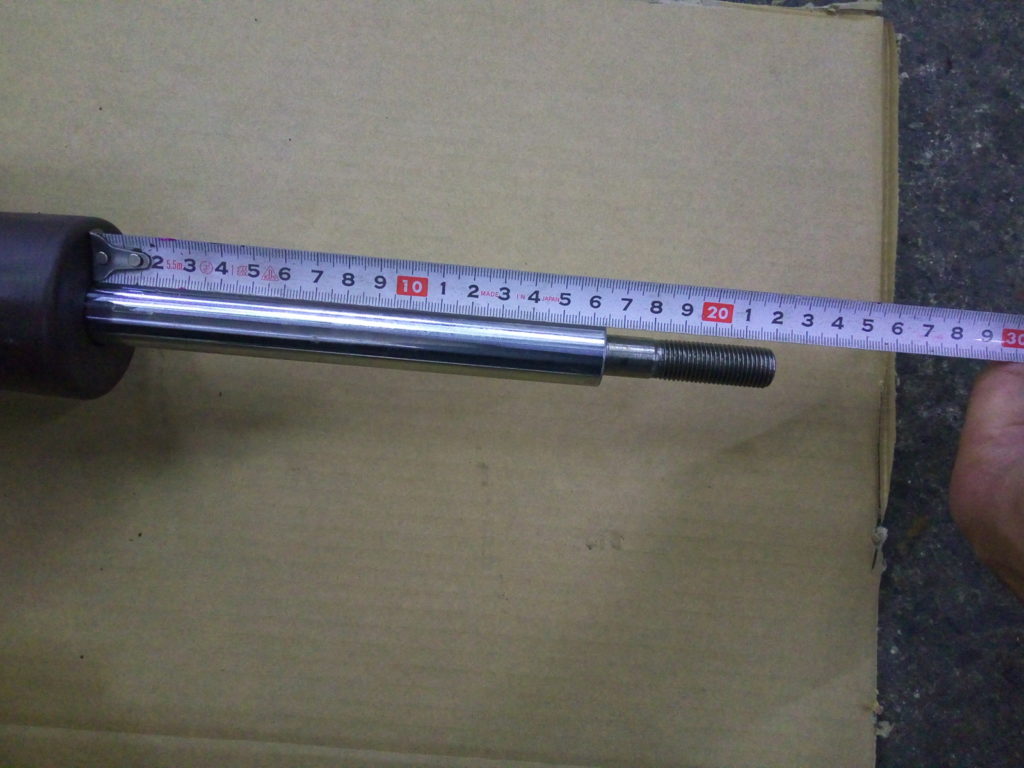 The short length coil spring attached to the GTA was playing without preloading.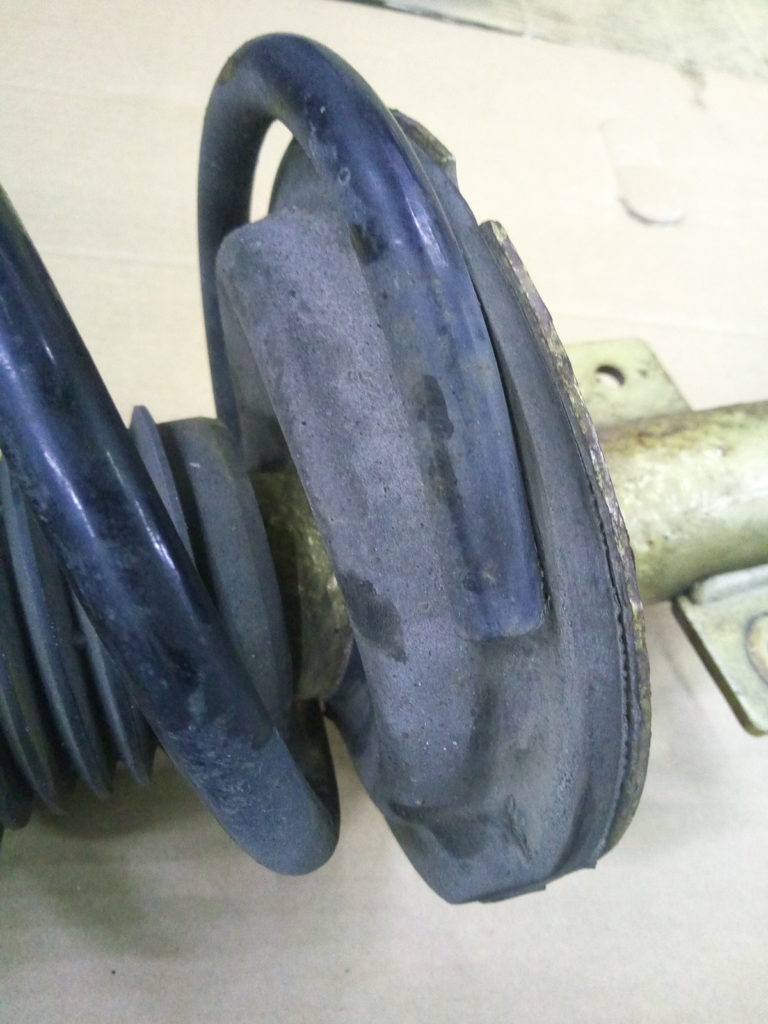 On the other hand, the front side was not a problem of length, but in the difference of the piston rod tip shape, it is with an upper mount that seems to be koni only, it was good to have prepared a new upper mount of genuine products, I'm relieved that there was no work delay.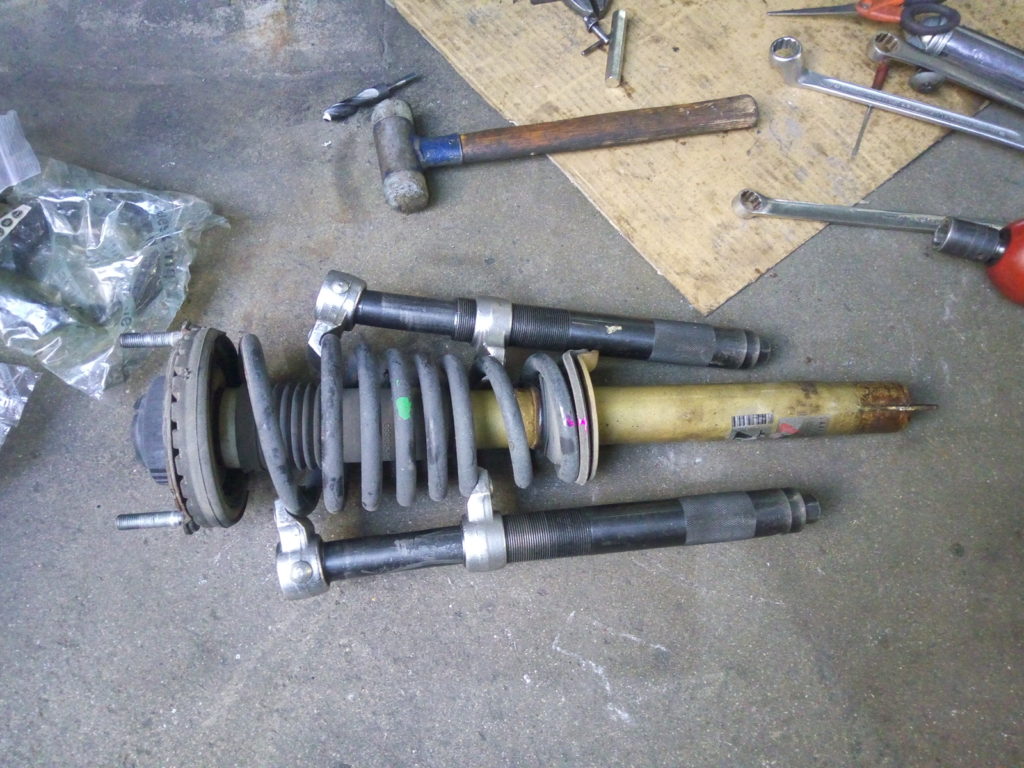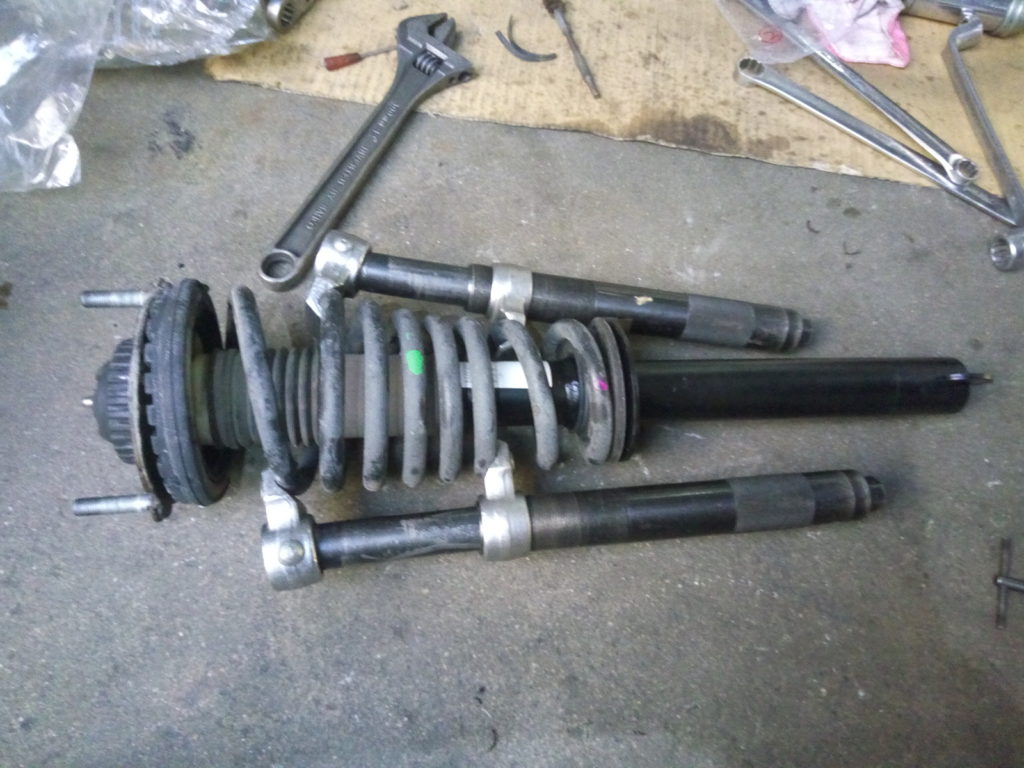 By the way, it is a part that is not directly related to the shock absorber replacement, but this 147GTA is equipped with an optical axis automatic adjustment mechanism, and a height sensor is attached to the suspension parts at a left front and a left rear.
I heard that the height sensor on the front side is always broken and has been replaced many times.
The mounting part of the link has been certainly broken.
I tried to temporarily fix it with a relatively strong adhesive, but it breaks easily in a short running time.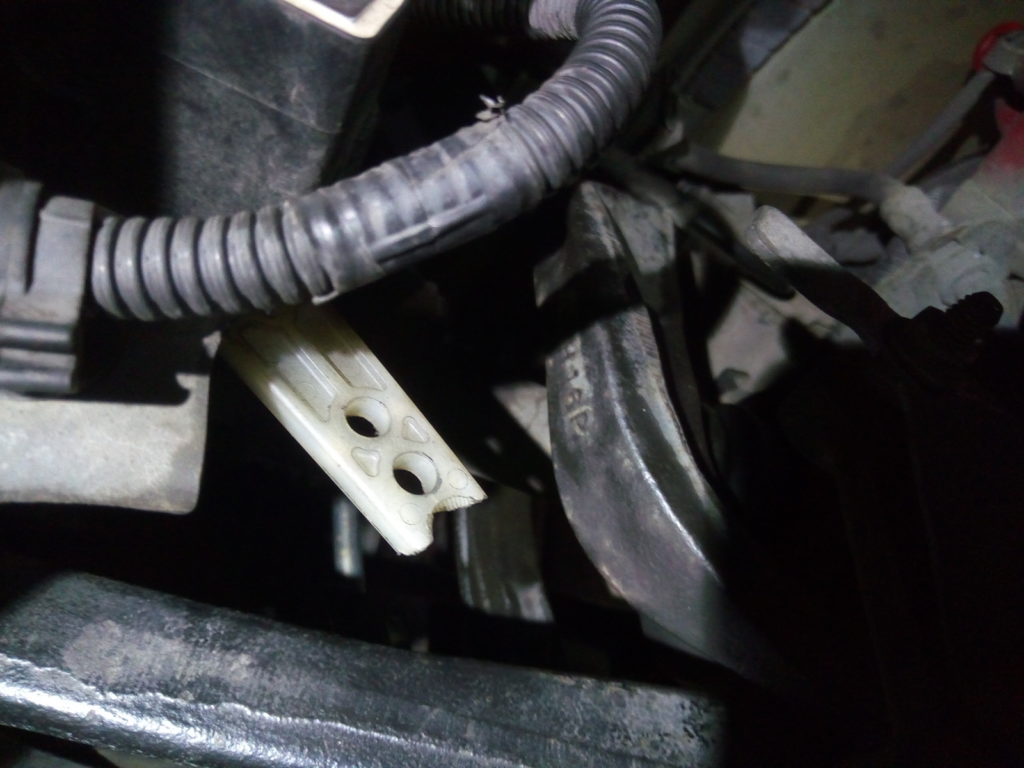 What about other cars with the same structure? I visually follow the trajectory of the arm and the link of the height sensor, and I noticed something uncomfortable.
However, there is no discomfort in the installation place, so I tried to attach a link to the fulcrum side of the arm, and to insert the metal sleeve.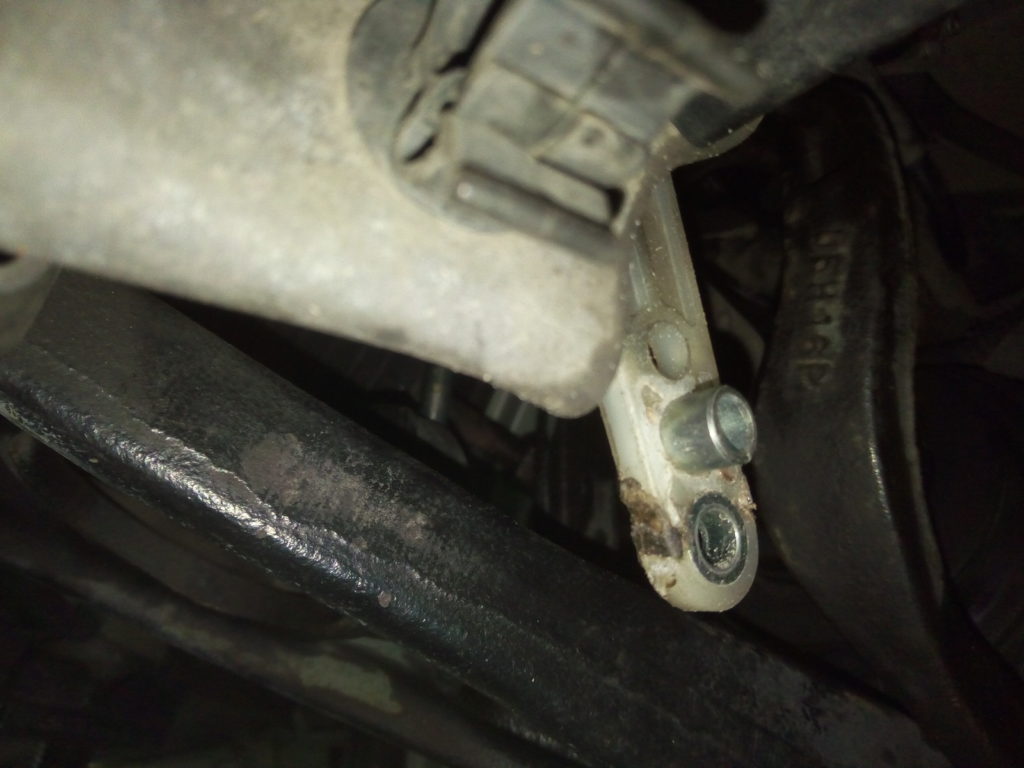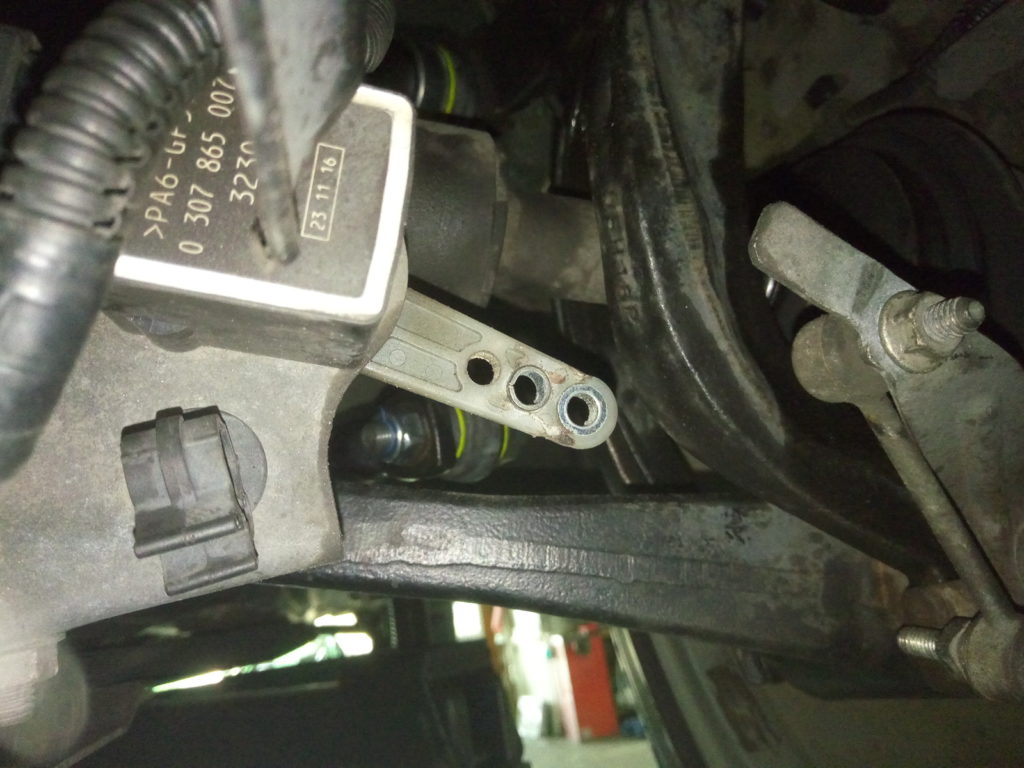 The operating width is reduced, but it may be good if it escapes damage.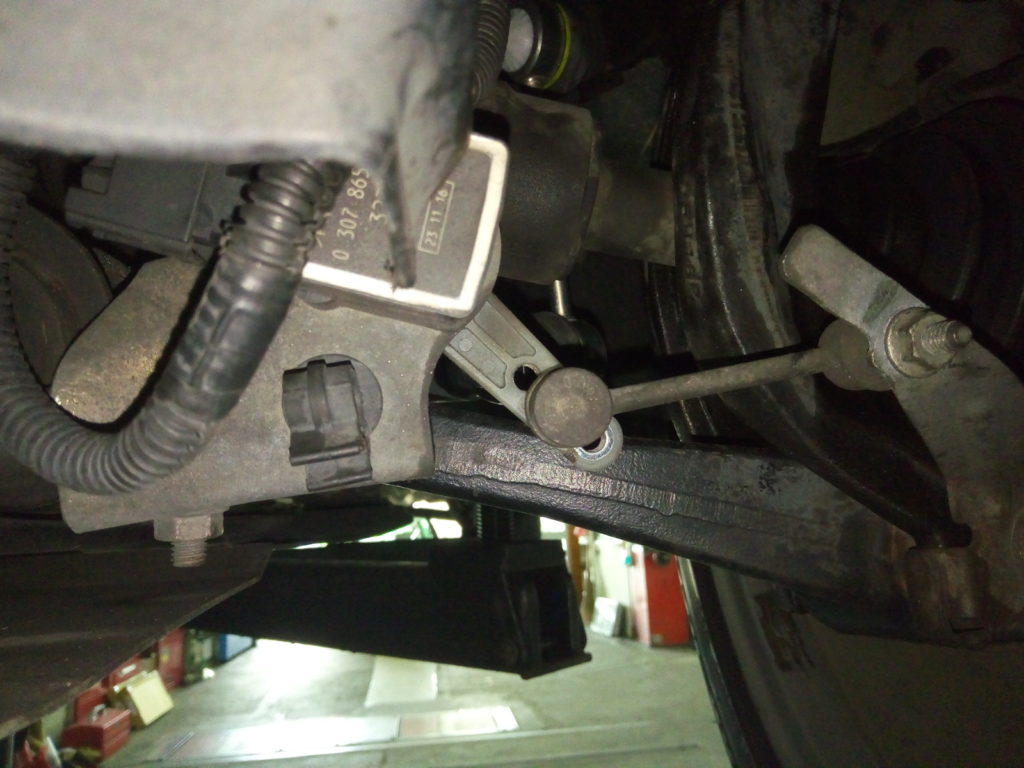 As a result of the commissioning, there seems to be no damage, so I will have you ride in this state for a while.
Finally, it is a coolant chamber in the engine room.Since the coolant level decreased, there was a crack in the lower surface of the chamber when observing while exploring the leakage point.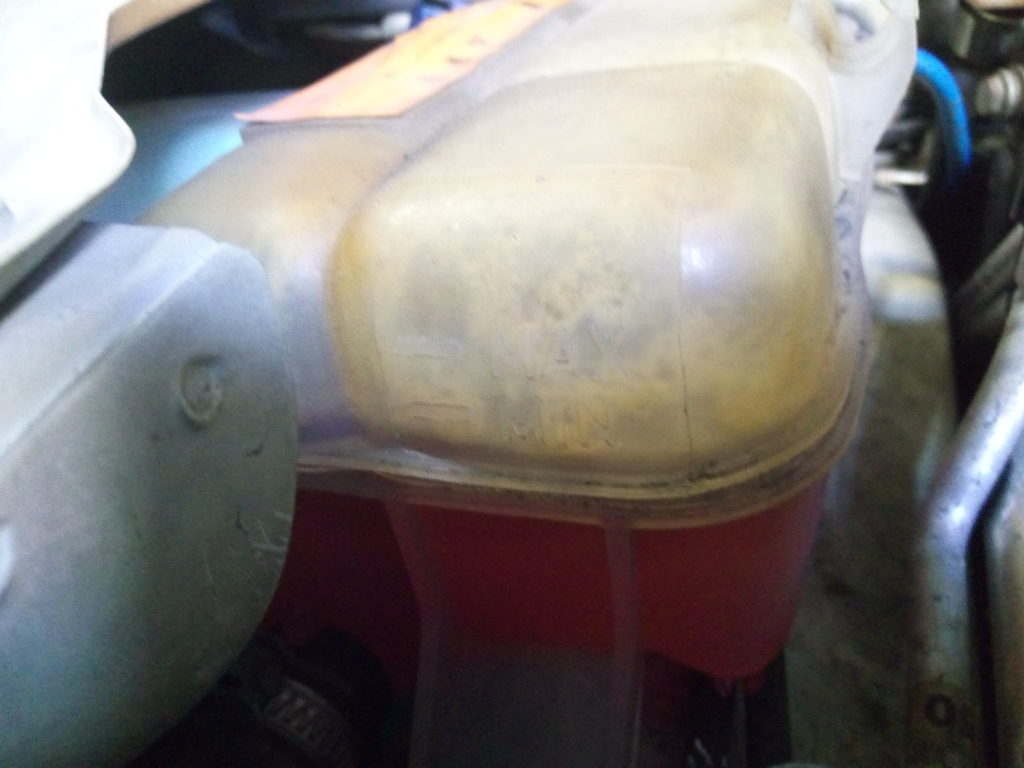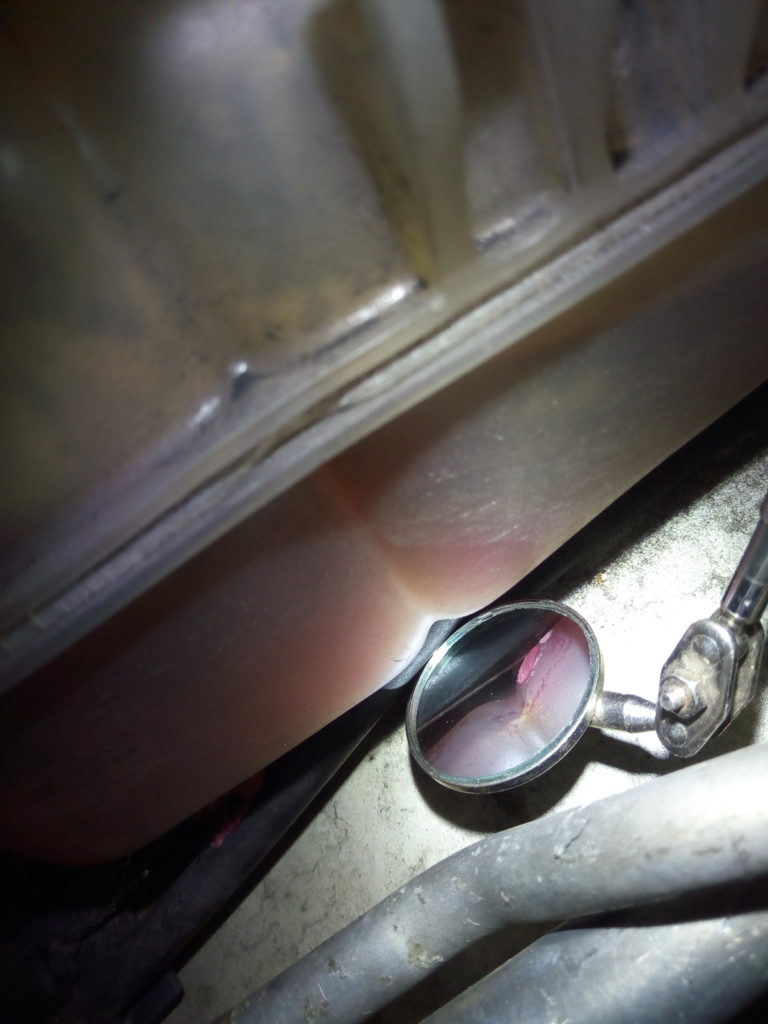 I think that it was often durable because it seems that it was not exchanged once from the new car in the maintenance record seen.
Not only Alfa Romeo, but also fiat, Lancia, etc., genuine shock absorbers have very excellent characteristics.When you look at the parts list, there are a lot of kinds, and it is finely set for each model and grade.
When you test-run after each part adjustment, you will notice that the original ride comfort is extremely excellent.
Alfa Romeo of this age gradually became less genuine supply parts.We will respond to consultations, including the use of excellent external products and genuine flow products, so we look forward to your continued support in the future.