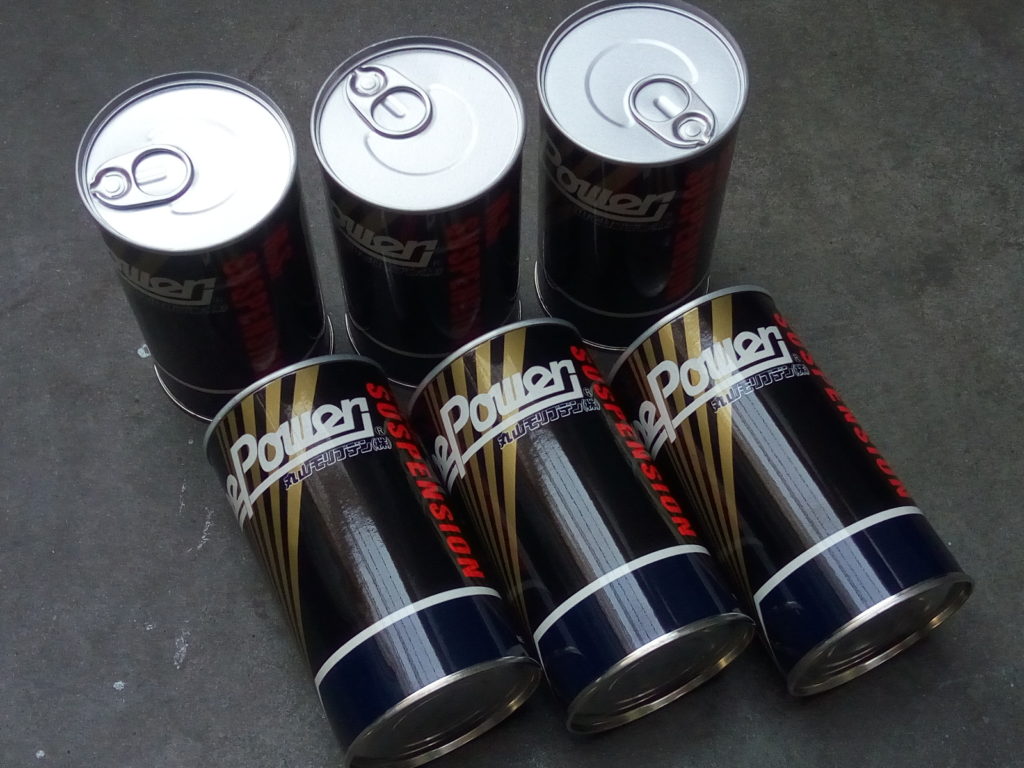 Maruyama Molybdenum Base Power Order Form
Maruyama Molybdenum FAQ (FAQs)
The main component of Maruyama molybdenum base power EX250C, molybdenum disulfide is a solid lubricant purified from natural ore called molybdenite.
In short, it does not dissolve in engine oil.
If insoluble powder is present in the engine oil, it is generally treated as "impurities".
Because such an object is mixed, I am worried about damage to metal parts, clogging of oil filters, and sedimentation to oil pans.
First of all, we will talk about the aggressiveness of metal parts.
Morse hardness of molybdenum disulfide described in the package is 1.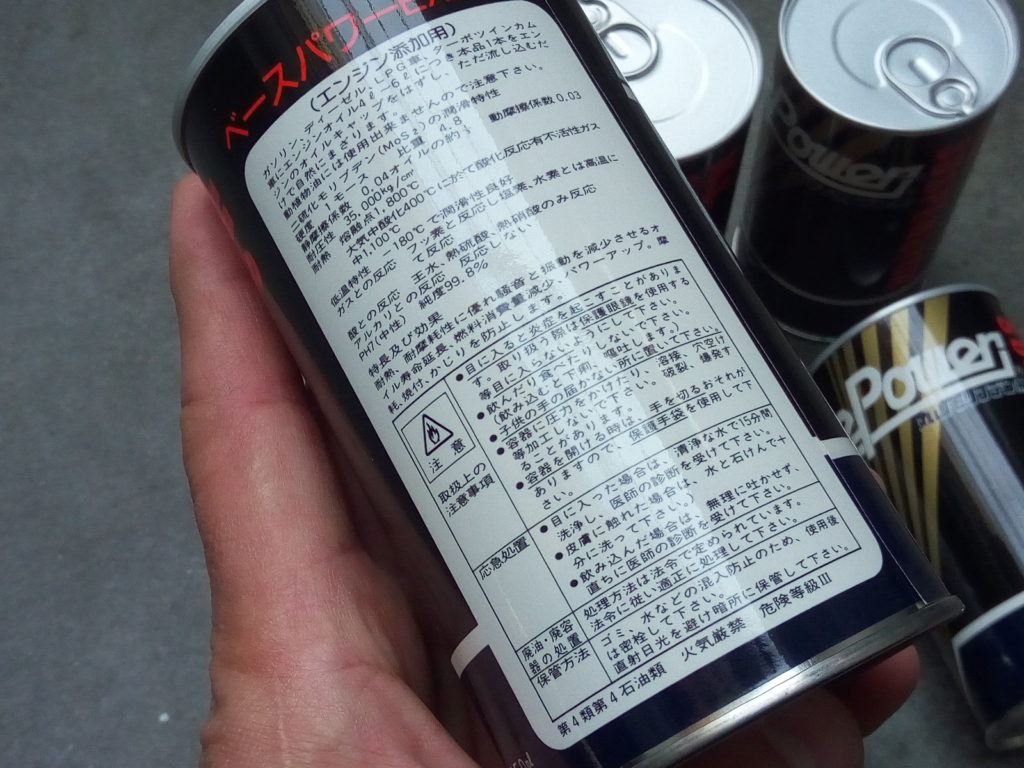 Mohs hardness is a relative value represented by giving an integer value of 1 to 10 to a preset standard.
Diamonds, the hardest mineral on the planet, are 10.
Molybdenum disulfide is classified as the softest lubricant in the ore, equivalent to Vickers hardness (HV) 50.
Because it is hardness that can be easily scratched with fingernails, there seems to be no worry of damage to the cylinder wall, camshaft, journal or metal.
Next, let's briefly examine the clogging of the oil filter.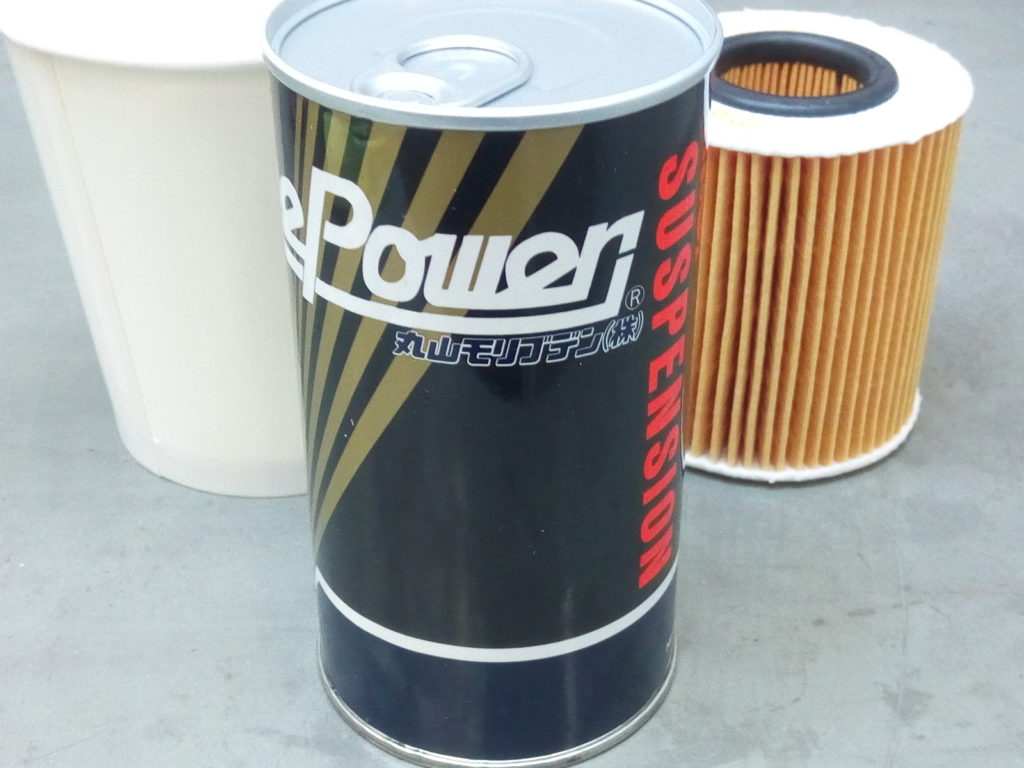 We prepared a filter paper change type oil filter, cut out a part, and tried to see how it was filtered by natural fall.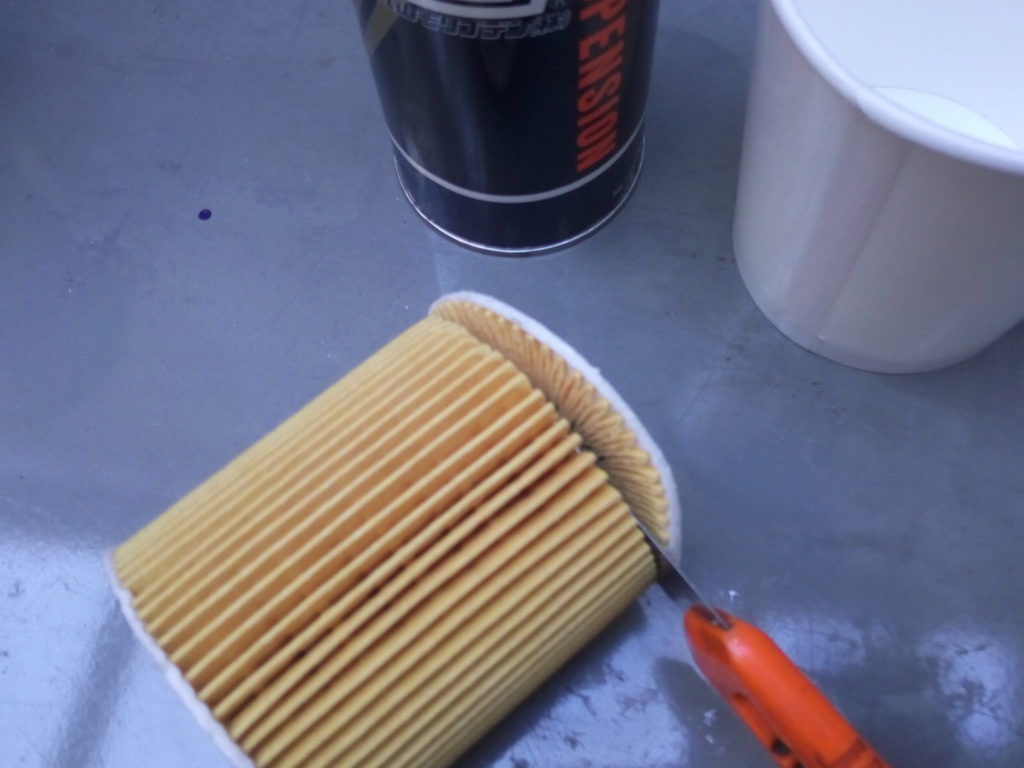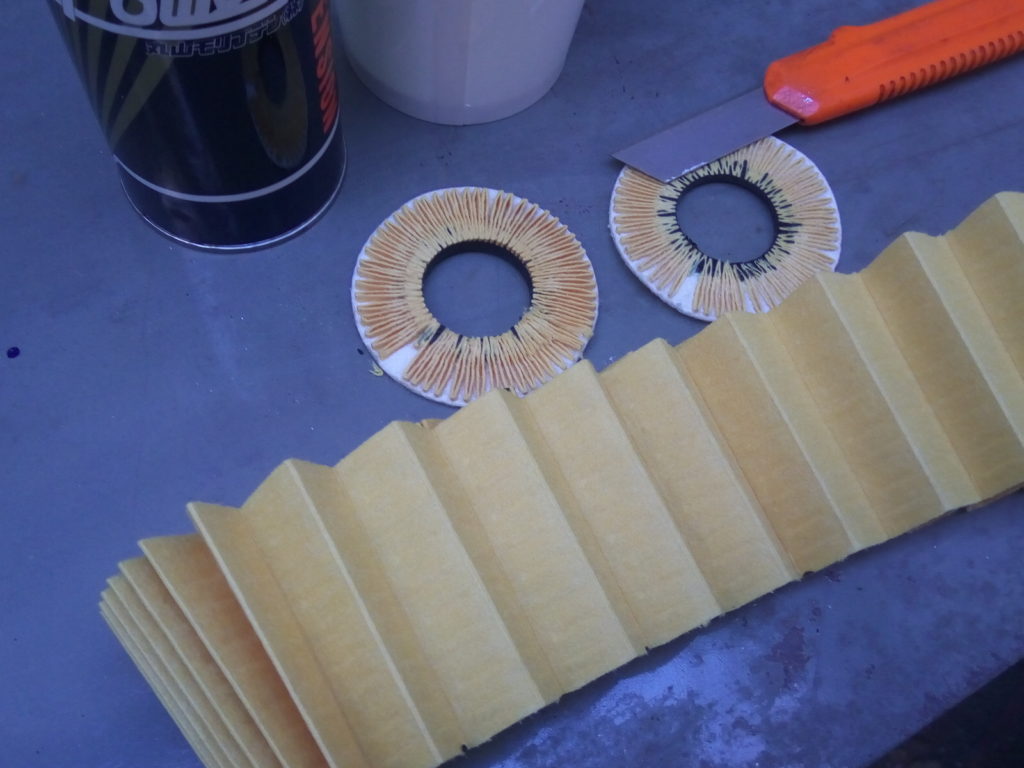 Set the filter cut into paper cups.
Drip Maruyama Molybdenum Base Power EX250C.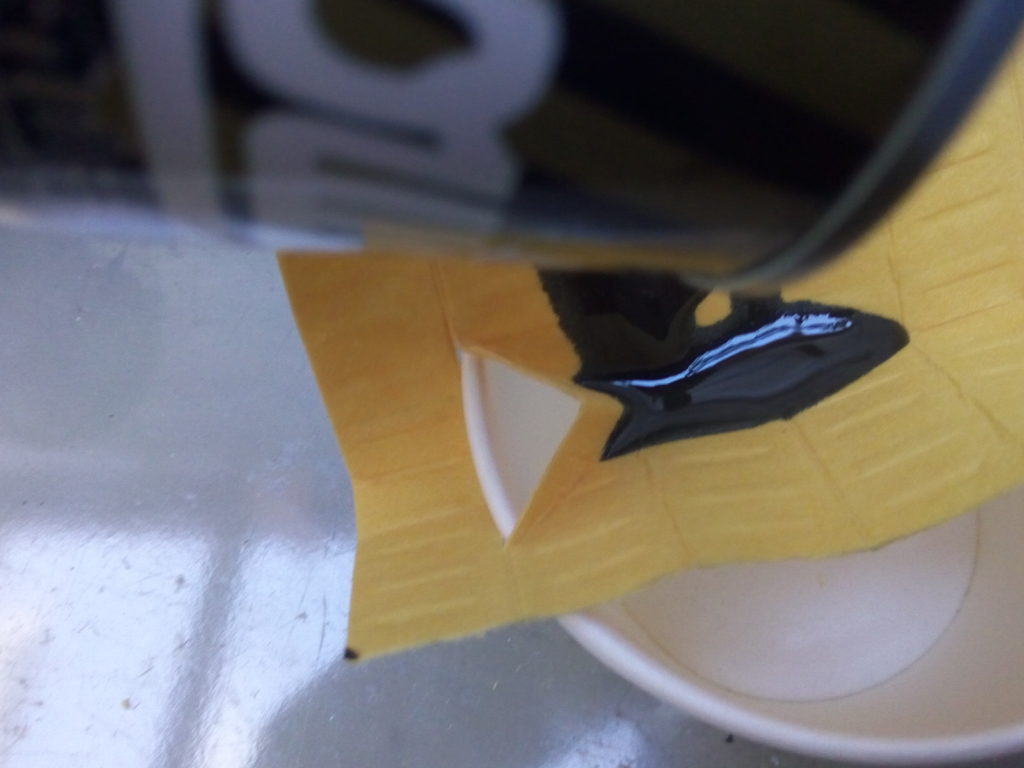 The liquid that soon dripped into the cup was the same hue as the injected one visually.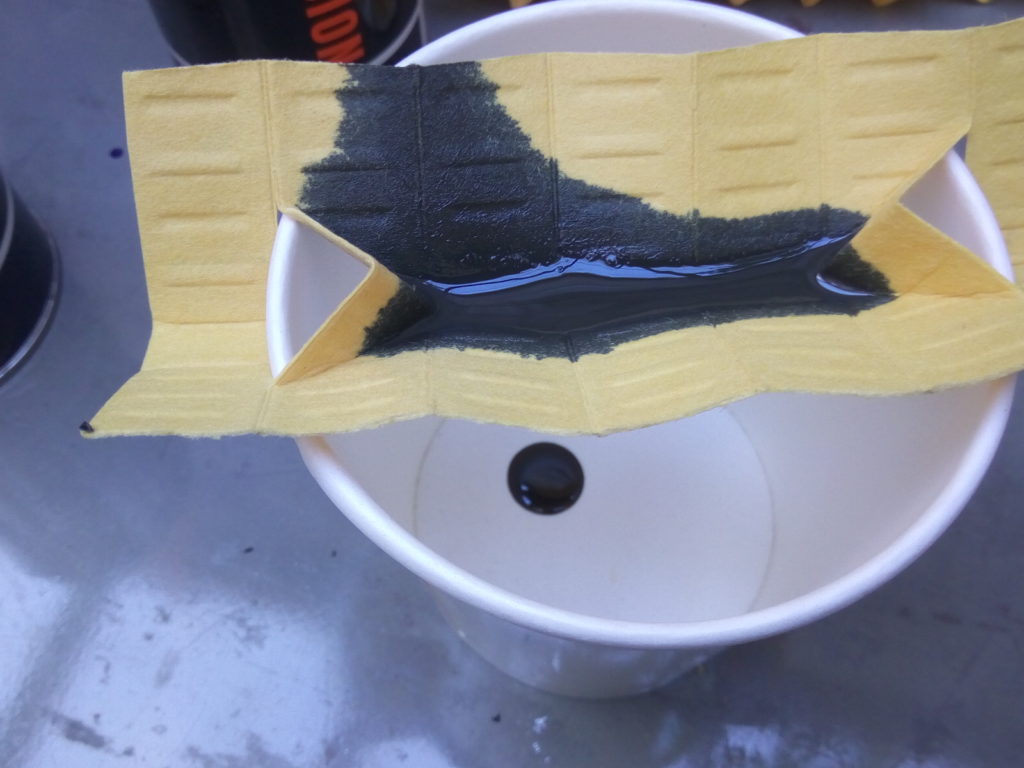 When the engine oil was dropped, the color of the filter became thinner, and it was found that molybdenum disulfide passed through the oil filter without difficulty.Because it is naturally dripped at room temperature in winter, there seems to be no worry of clogging if the oil temperature and hydraulic pressure rise.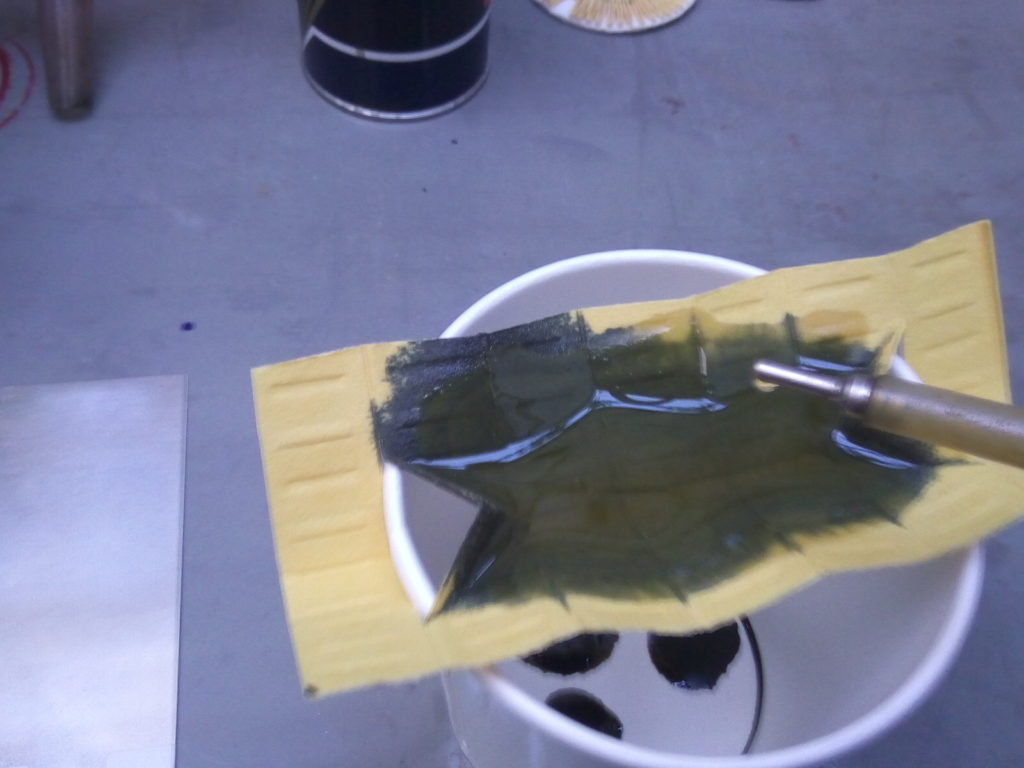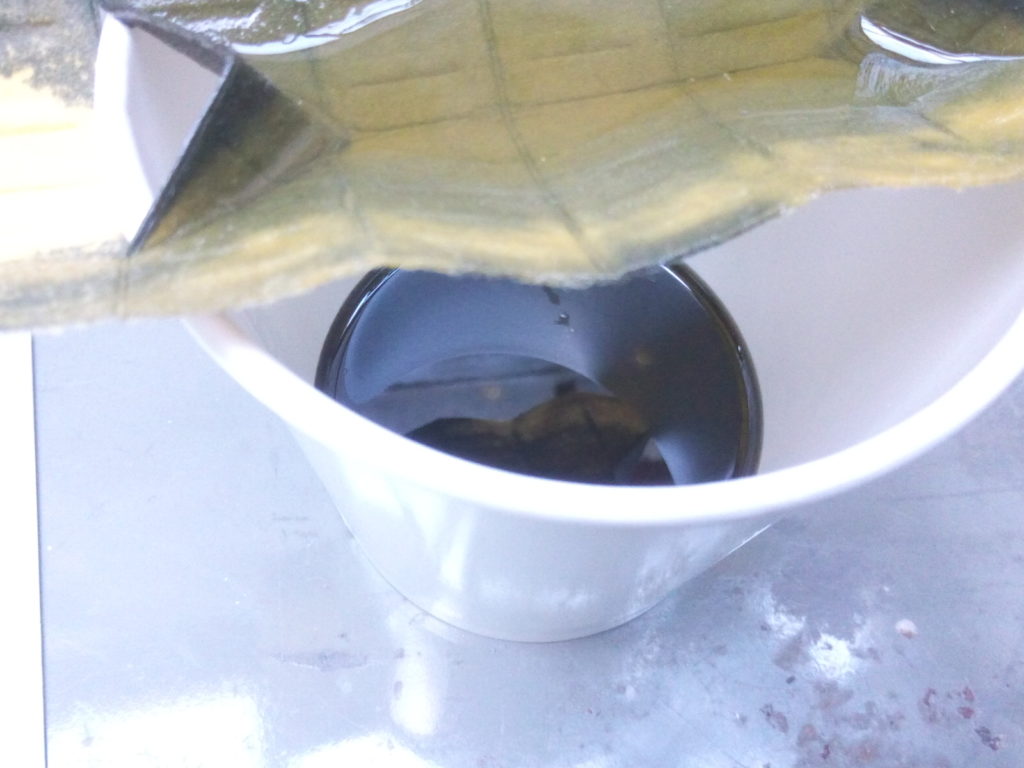 Next, what about the concern of precipitation?
Molybdenum disulfide mixed in engine oil has a higher specific gravity than engine oil (specific gravity 0.86-0.87) (specific gravity 4.8), so it is settled in long-term standing storage.It is difficult to stir the bottom reservoir in any package, and it is one of the reasons why each engine oil manufacturer avoids using it as an additive to blend.
The engine oil (MOTUL H-Tech 100Plus 5W30) placed in a plastic bottle,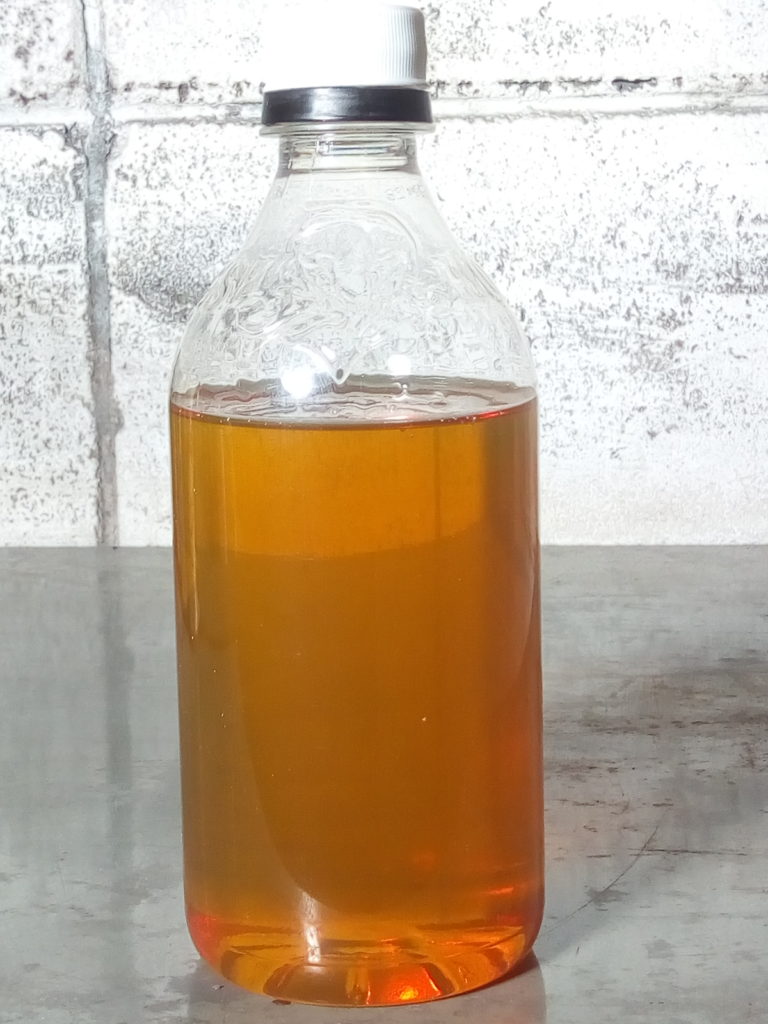 If you inject Maruyama molybdenum base power EX250C slowly, you can see how it settles by the specific gravity difference.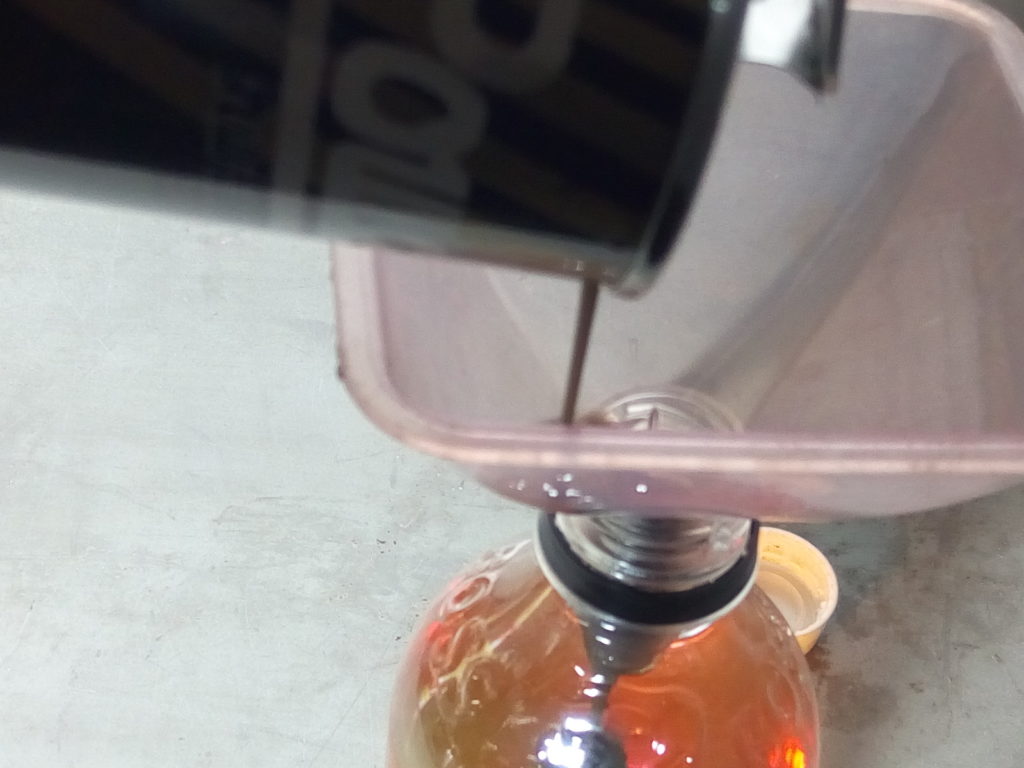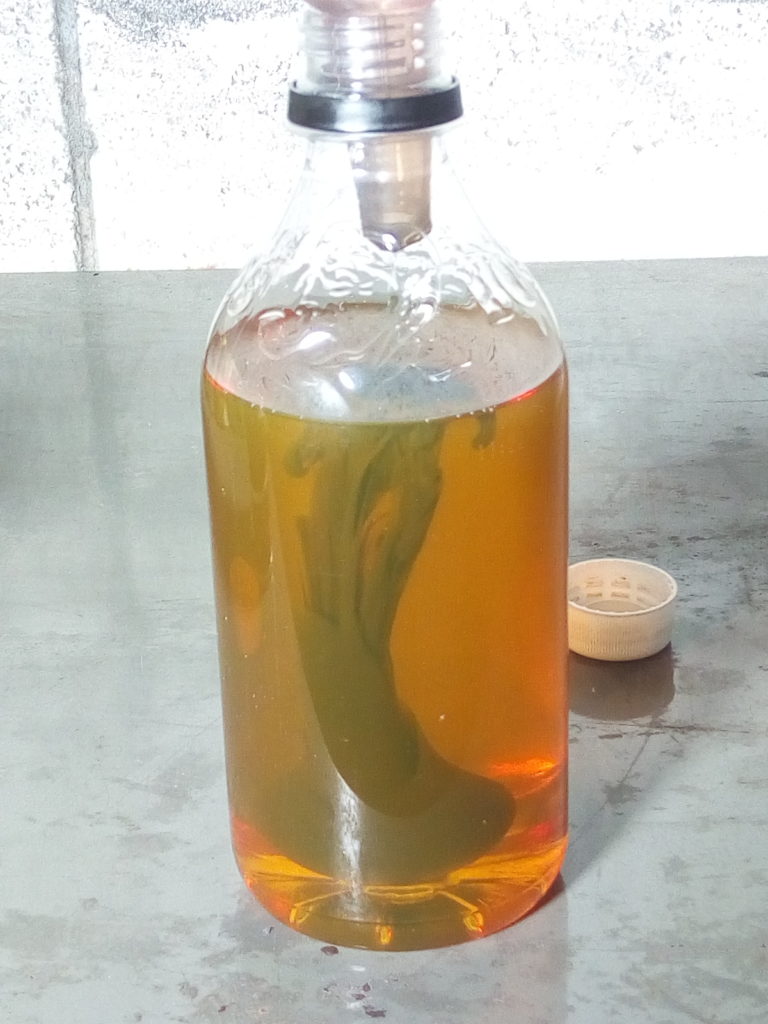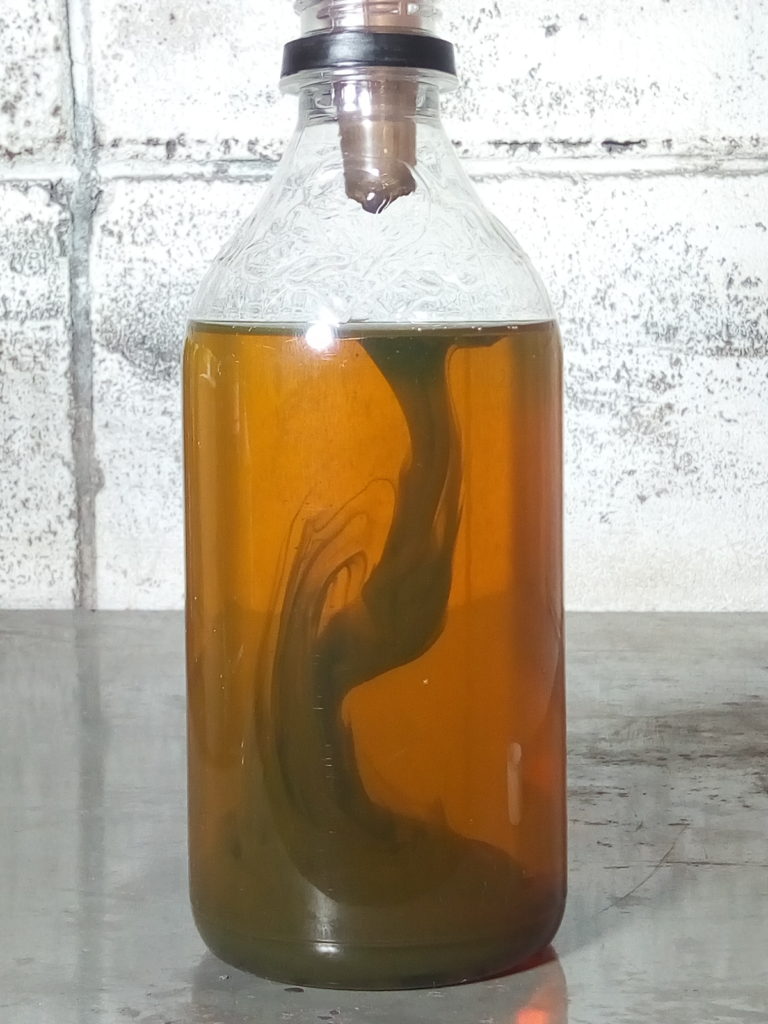 And, it is a state that has passed 14 hours in the standing.Molybdenum disulfide components are accumulated below.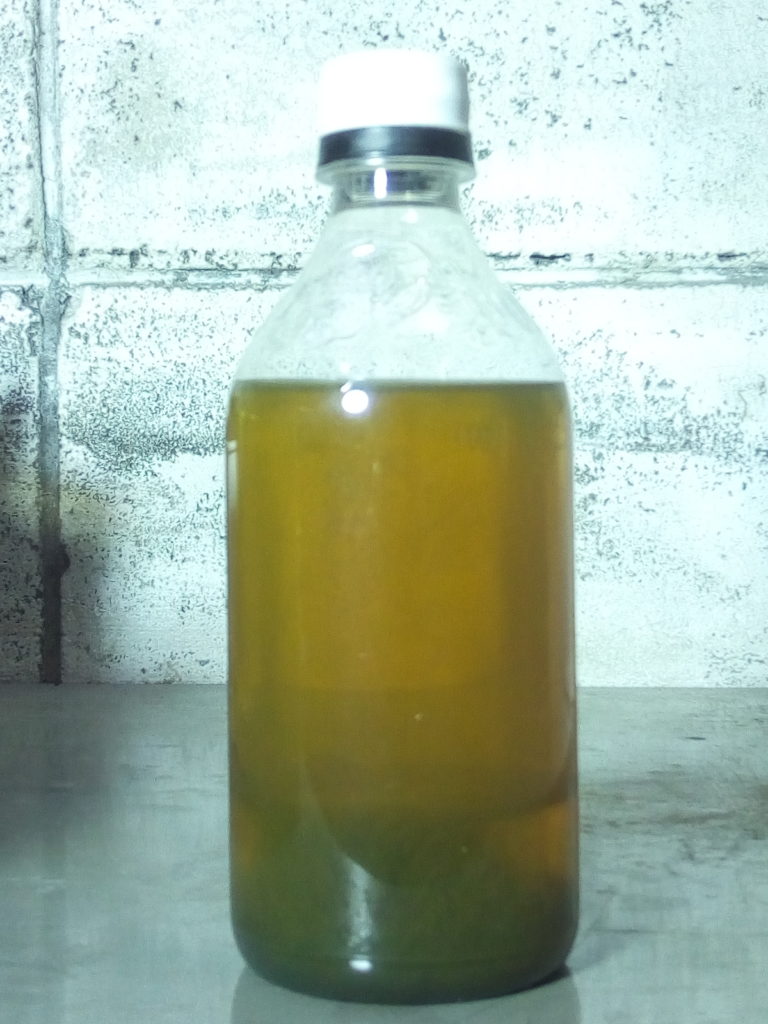 I tried to shake the plastic bottle well.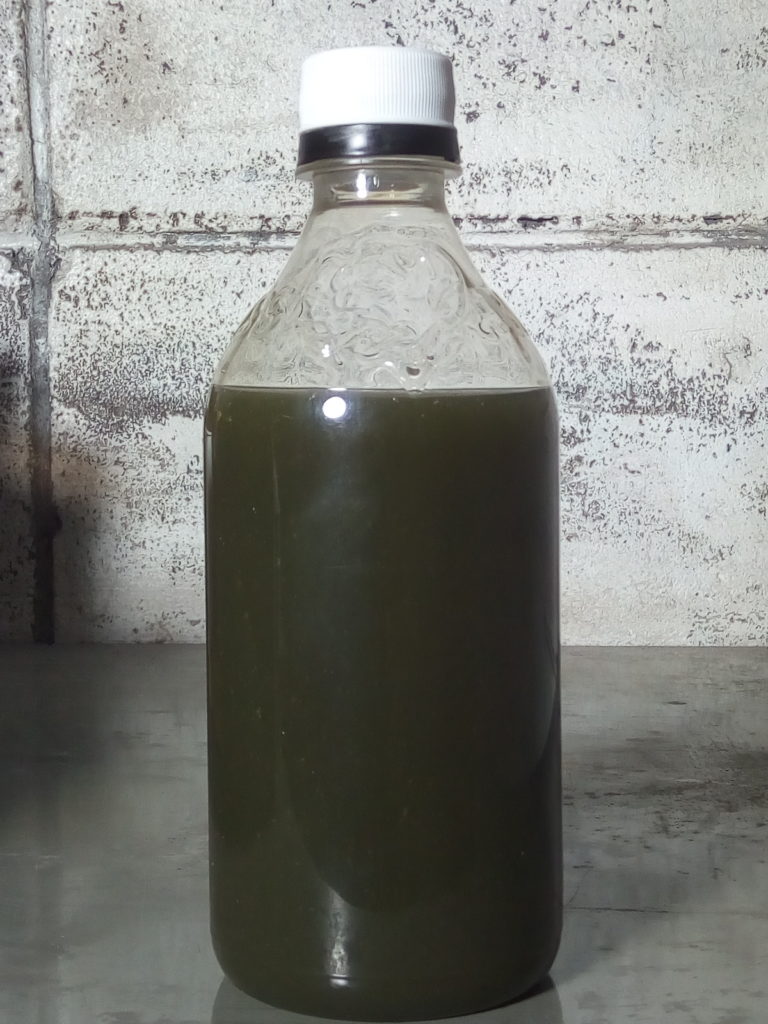 In this way, molybdenum disulfide dispersed to become a uniform color.
In addition, it is left as it is for 14 hours.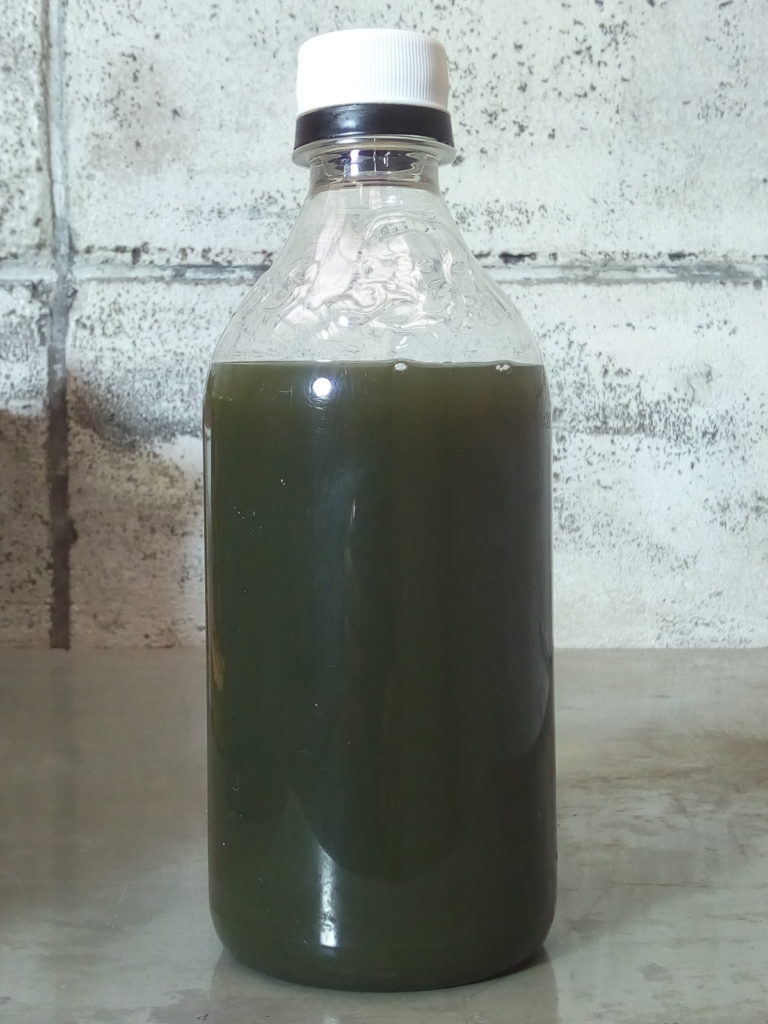 Visually, it is almost the same as immediately after stirring.
There was no state of deposition even if the pet bottle was turned upside down and the bottom was observed.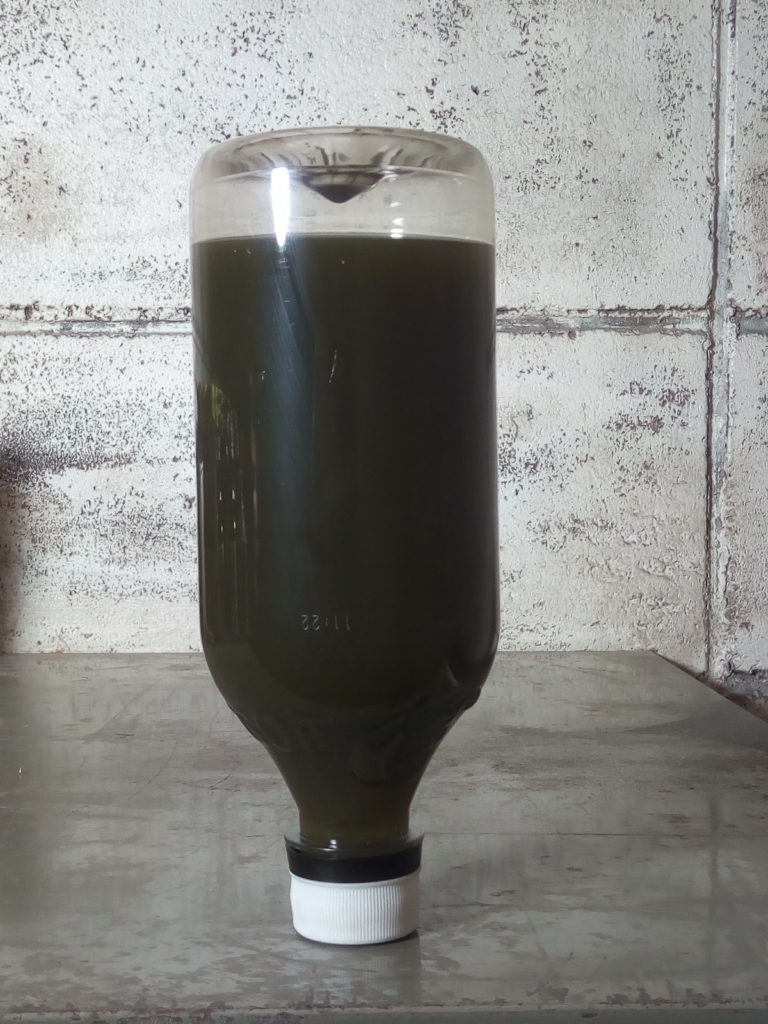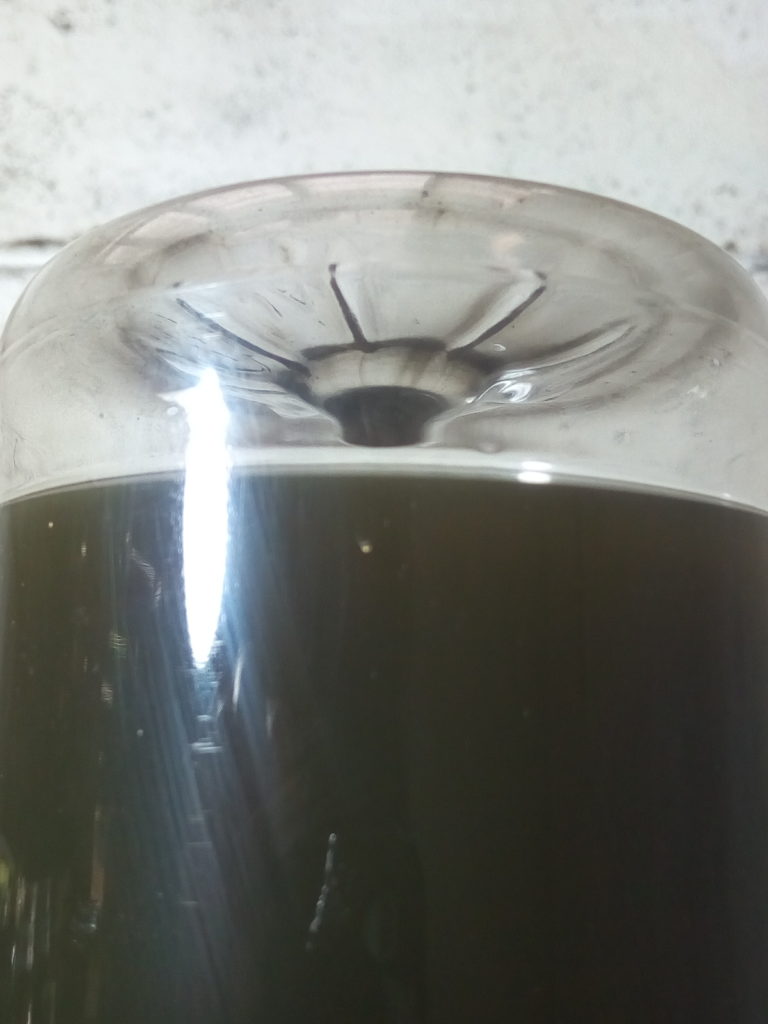 Solid lubricants with a large specific gravity are dispersed in engine oil and are important to maintain their condition, and I think it is technically difficult, but I feel that this point is also cleared.
The crystal structure of molybdenum disulfide is likened to a stacked playing lamp, and is said to be 1600 sheets in thickness of 1 micrometer.It is highly load-bearing vertically and easily slides in the horizontal direction (cleavage).
Although extreme pressure additives that dissolve in engine oil when focusing on load-bearing properties are effective, molybdenum disulfide is characterized by excellent lubricity, and if it is efficiently adsorbed on the metal surface that is well dispersed in the engine oil and is effective, The effect which cannot be obtained by the additive of the solubility can be expected.
Next time impression of rare additive (Maruyama molybdenum)
We are looking forward to hearing from you in the comments section for your thoughts on maruyama molybdenum base power.
Where can I buy Maruyama Molybdenum Base Power? Please order from the form below.Business sales are not possible.
Maruyama Molybdenum Base Power Order Form