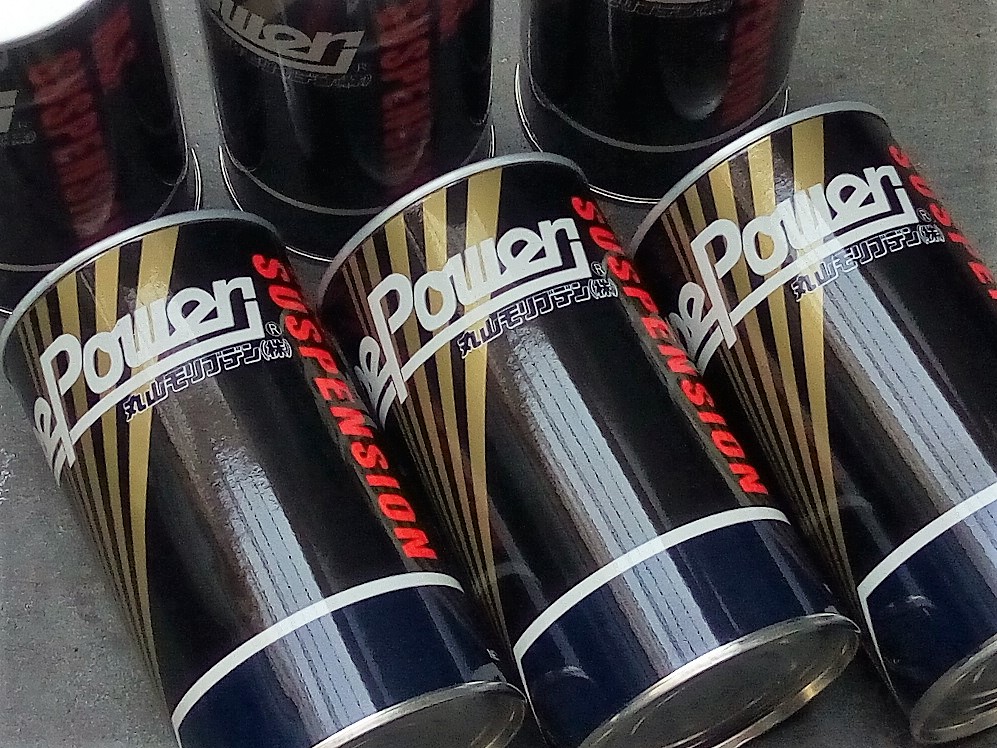 Maruyama Molybdenum Base Power Order Form
Maruyama Molybdenum FAQ (FAQs)
The engine oil additive base power EX250C of Maruyama molybdenum has been talking about since the other day.
I asked Mr. T who was an owner of Suzuki Escudo(Grand Vitara), a customer who used it twice in a row, about the feeling of use.
Mr. T's Escudo currently has a mileage of about 270,000 kilometers.I was worried about the engine oil consumption trend from the time of less than 100,000 kilometers.There is also white smoke from the exhaust pipe-end after idling for a long time.It is consumption of more than one liter at the oil change interval.
I am interested in that Mr. T continued to use molybdenum disulfide additives made by other companies.
Maruyama Molybdenum Base Power EX250C is injected with the effect of reducing oil consumption that is not effective, but we also asked for your impressions of other effects.
Mr. T: My second maruyama molybdenum addition made the engine quieter at a level that I can experience more than the previous time.
The effect seems to be easier to understand than the first addition, and the white smoke after idling for a long time has decreased considerably.
However, The smell of oil burning feels a little.There is a possibility that the viscosity of the oil is rising due to the low temperature, but I think that it is sure to be moving in the direction of improvement.
In addition, thanks to molybdenum, gasoline consumption seems to be less than usual.It is a feeling that it is easier to experience the high-speed long-distance travel than driving on the urban road .
Takeshi: Thank you for your detailed report.
The main component of Maruyama molybdenum, molybdenum disulfide, is purified from natural ore.I think that the main component is not so different from other companies' made, but it is very interesting that there is an effect that can not be obtained elsewhere.
Mr. T: After all, it's a rare additive! The molybdenum of the company that I had put up to now was not seen the effect on the oil eating at least.I'm thinking of deciding depending on how the oil is reduced, but it might be better to put it in continuously for a while.
Takeshi: What is the viscosity of the molybdenum additives of another company you have used so far?
Mr. T: A little softer or as much than 15w50?? There are several cases of Maruyama molybdenum spouting even in Minkara.
Takeshi: Maruyama molybdenum is quite soft and feels about 0W20.By the way, why did Mr. T put the molybdenum of aonther companies?
Mr. T: I thought it would be available anywhere, cheap, and brand reliable.Anyway, I wanted a molybdenum one.
Takeshi: Why choose molybdenum?
Mr. T: As I may have said before, I heard that molybdenum is very effective as a measure against the rise in the rotation axis temperature of the preserved steam locomotive in Kyoto Umekoji.
Measures against axial burn of steam locomotives are an important issue for all dynamic storage machines, and research has been piled up in engine districts across the country, but the use of molybdenum has been established due to the results of Umekoji.
Of course, the conditions are different between the internal combustion engine and the bearing of the car, but it is a fan psychology that the additive is a bad source anyway, and the same thing as SL is put in.
Takeshi: It's very interesting!Could you tell me a little more?
Mr. T: "I am bored!" I thought you would be said.
By the way, ball bearings are not used for all rotary bearings of steam locomotives, although it is hard to believe in the sense of a car.
It is a plain bearing (flat bearing) that removes the oil soaked in the yarn and lubricates it.
Therefore, it lubricates the oil cup every time of the stop, and the fall speed is adjusted.
"Steam locomotive oil cup"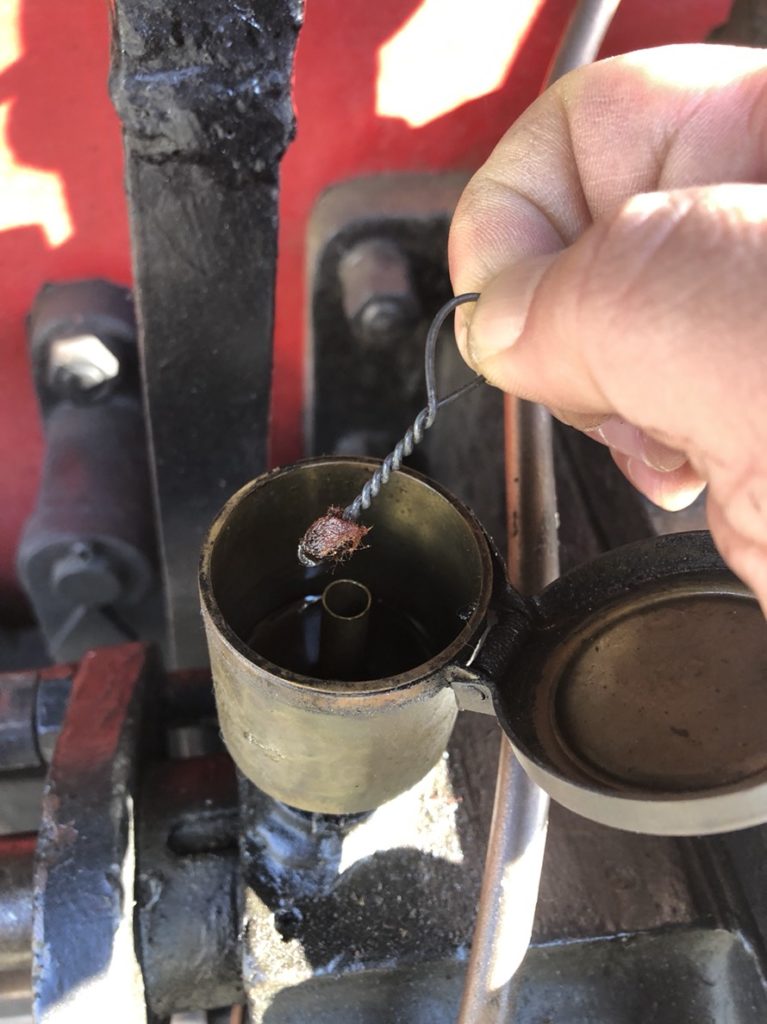 Even in the new vehicle 70 years, steam locomotive well over 100 years if it is an old thing.
Moreover, lubricants for machines that cannot be remade and do not have stock may be more serious problems than cars in a sense.
Takeshi: That's right.I'm searching for literature to add molybdenum to the bearings of steam locomotives, but I can't find them easily.
Mr. T: That's absolutely not the case.I personally asked the vehicle hanging.
Takeshi: That's great!
Mr. T: JR East's C61 and D51 are used by car gear oil, And Umekoji's C57, C56, D51, etc. in the gear oil with molybdenum.
At the time of steam' active use, while using vegetable oil-based machine oil, there were no frequent problems with axial burn.
Why?
There was a training (maintenance) where the clearance adjustment of exquisite balance was able to be done naturally anywhere.
Tens of thousands of locomotives were seen every day in Japan.
However, due to the total abolition of SLs due to smokeless (steam abolition), the division of the Japan National Railways, and the aging of mechanics, we have entered the era of revival operation as a tourist resource without the transmission of technology.
In short, the axle of the locomotive started to turn without the human resource who was able to do such craftsmanship anywhere now.
Takeshi: I see.
Mr. T: But modern times have multi-grade oils.For a while, it was an operation by trial and error, such as performance test of each company oil, but after a while, the axial burn occurs in various places.
Umekoji was the first to be revived on the Yamaguchi Line even after it became smokeless, and there was a long day in the premises operation at Umekoji Steam Locomotive Hall.
Several additives were mixed with gear oil and experimented, and molybdenum was the most effective.
I listen to this story in Umekoji, and then when I go to the place where I am doing revival driving, I ask what oil is using the shaft.
There are still places of machine oil in low-speed places such as facilities, but I knew the benefits of molybdenum everywhere.
However, molybdenum is expensive, so it is enough that we cannot burn even machine oil.and things.
Since we also exchange information with each other in the place where the revival operation is done, good things are transmitted, and it seems to be considering the introduction according to the circumstances of the company on that.
Takeshi: Does that mean that good molybdenum is still expensive?Maybe it's Maruyama Molybdenum in Umekoji.(Note 1)
Mr. T: When I heard before, I was told that Molybdenum is the same guy as the car.I have a good chance to talk to an engineer, but I don't see him easily after i've been examined.The engineer may not know the contents of the oil.
Takeshi: If you have a chance, please.
Mr. T: Yes.Now, I thought, if you think simply, "cheap is thin" is it??If you ask an oil engineer, I read additives in mixed things and minute equal prices.
Takeshi: That might be true.However, if there is such a difference in the same molybdenum disulfide additive, solid lubricants seem to have considerable know-how in adsorption to metals, dispersion in lubricants, and hardness to aggregate.
Until now, I have felt that there are few molybdenum nibdenum additives that work on internal combustion engines, but when I learn about Maruyama molybdenum, which is very effective, I am very interested in what kind of research and development is being conducted.
The story of the axis lubrication of the steam locomotive was very interesting content.Thank you very much for today!
(Note 1) After writing this article, when I asked the supplier, it was the base power "for fuel" of Maruyama molybdenum that was added to the axis of the locomotive of Umekoji.Even if it is for fuel, the solvent is not gasoline or light oil but mineral oil, so I think that it was selected after a comprehensive judgment such as the concentration, viscosity, price, etc. of the main component.
In the next "Further verification of rare additives", I will introduce the only fuel additive containing molybdenum disulfide in the world.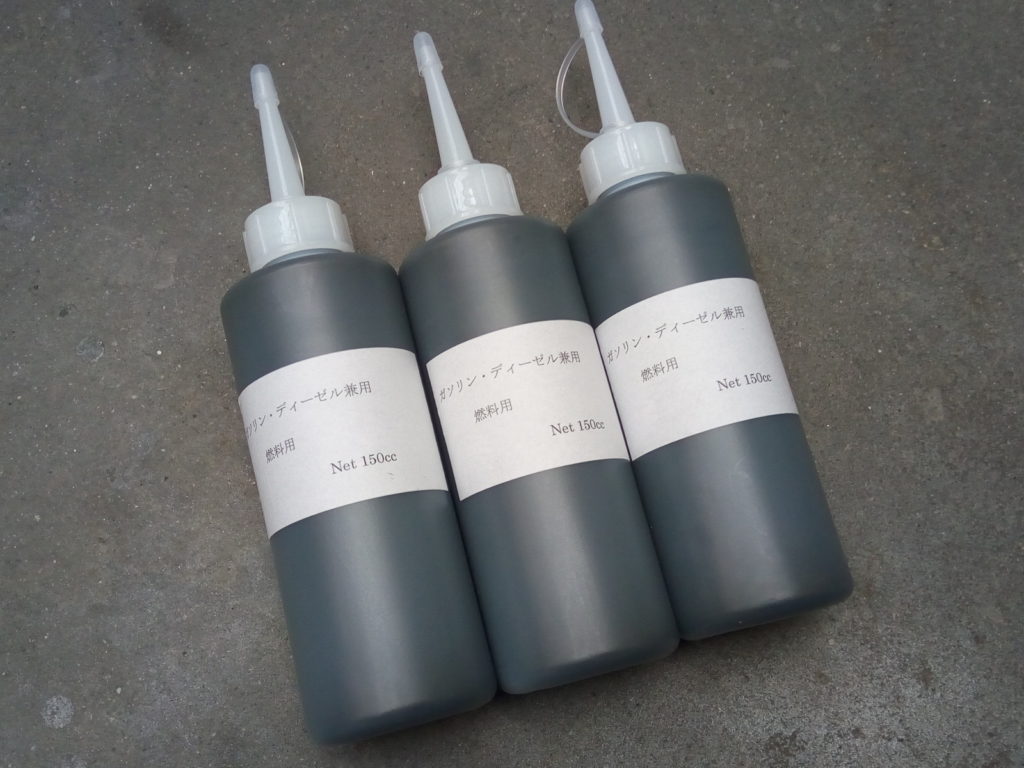 We are looking forward to hearing from you in the comments section for your thoughts on maruyama molybdenum base power.
Where can I buy Maruyama Molybdenum Base Power? Please order from the form below.Business sales are not possible.
Maruyama Molybdenum Base Power Order Form