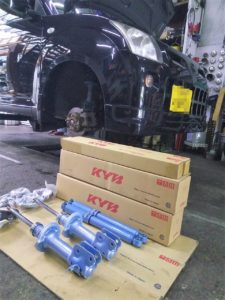 Just five years ago, Pino's owner consulted me to improve the ride comfort when the mileage of Pino was 25,000 km.
At that time, even though I feel doubt about the cheapness of the normal ride and gather information, the owner seemed to be in a very troubled situation when it was only a remodeling of appearance importance such as low-down and inch-up.
Why not lower-down or inch-up?(DBA-HC24S Nissan Pino Ride Comfort Improvement Shock Absorber Replacement)
I recommended that he upgrade the shock absorber that he felt is incompetent and perform the replacement work.Currently, the mileage has reached 110,000 km.
MY2009 DBA-HC24S K6A 5MT Mileage 110,000km
I checked it regularly and felt that there was sufficient damping force, but I decided to make a new style of the same shock absorber because of the instability and push-up that I did not have before, such as when three people were riding.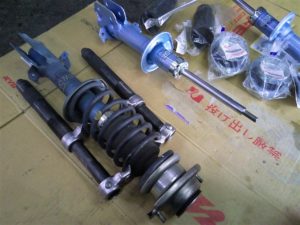 The deterioration of the shock absorber is very slow.Twin-tube shock absorbers with relatively low pressure nitrogen gas do not deteriorate so that even if there is a slight oil leak or nitrogen gas leakage, the damping force does not come out at all.
However, the "ride taste", "stability" and "sliding ability" at the time of new product gradually fade.I think that the attenuation characteristic changes.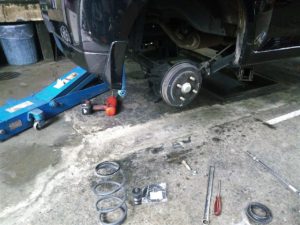 This time, such as upper mount and coil spring seat, rubber parts associated with the suspension were also replaced at the same time.
When you operate the Nardi steering wheel of Pinot in the commissioning, you will notice that the information from the road surface is completely different.
After giving it to the owner,
I found that the stability of the car was improved as soon as I sat in the driver's seat after working this time.
When connecting the clutch at the time of stability and starting while driving, the car does not sink and proceeds smoothly.
I knew it would improve my driving by replacing it, but I was able to feel the joy of driving a car again.
It's also exciting to switch to a new, high-performance car.
However, I think that it was worth more than the amount paid to be able to reconfirm the pleasure of running continuously riding in the same car.
And, I was very happy to receive his impression.
Many car repairs have a strong negative impression because they involve breakdowns, and they do not change even after work, but the shock absorber replacement is different.
It is a pleasure that only you who continue to ride in the same car for a long time can taste.
It can be said that it is one of the few car maintenance.
"Editing Postscript"
As you know, KYB reported quality control issues in its non-mainstay business, shock absorbers (oil dampers) for building buildings.The report of fraud by an excellent manufacturer, which has the second largest market share in the world for automobile buffers, was a shock.I think there were various backgrounds before it came to light.In recent years, other manufacturing companies have pointed out fraud one after another and are reported.I am keenly aware of the difficulty of being foolish lying on the rules that are decided in society.