Consultation on Maruyama Molybdenum Base Power GX200 for gear oil (for manual transmissions and differential gears) has been consulted.
Base power GX200 for gear oil is a Kansai-only product characterized by a very high molybdenum disulfide concentration compared to engine oil.
Since the GX200 can be used without problems with engine oil, the GX200 is recommended when using engine oil first, which shows a faster effect.Of course, if the running cost is acceptable, it would be better to continue using the GX200.
Maruyama Molybdenum Base Power Order Form
Maruyama Molybdenum FAQ (FAQs)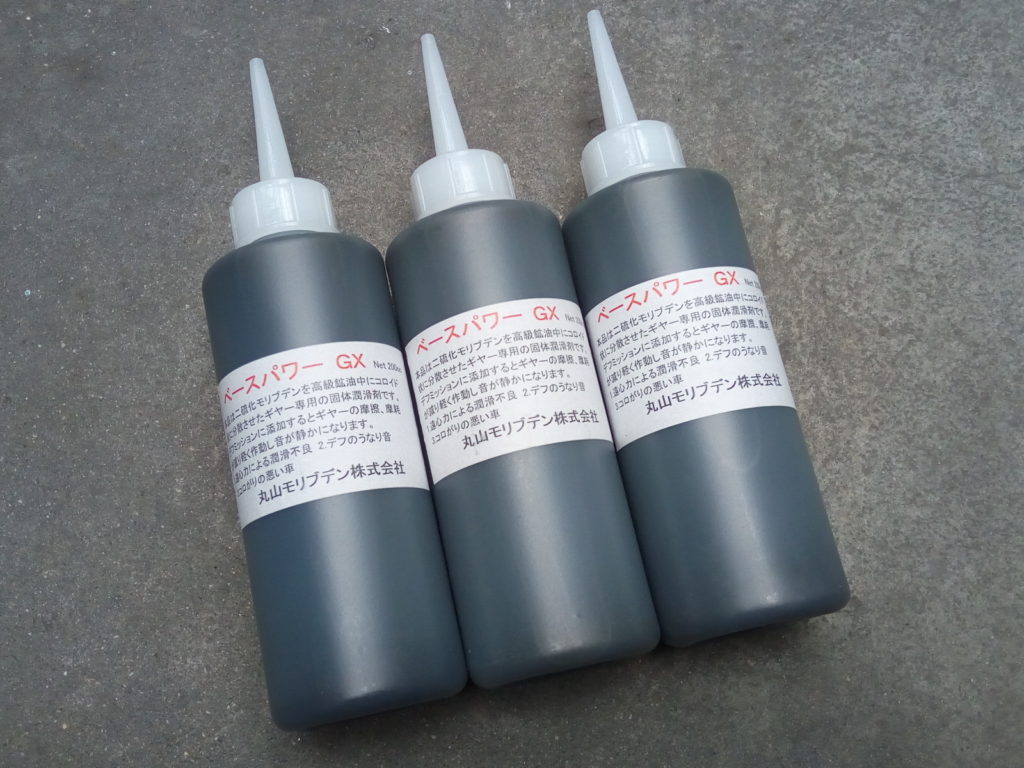 Now, this question is about the compatibility of the differential limiting device (LSD, Limited Slip Differencial) and GX200 attached to the competition vehicle such as the race rally and the car which enjoys sports driving.
I'm sorry for the continuous consultation.

Questions i had before using the GX200

The car is 5MT and I have you assemble what becomes Daihatsu genuine super LSD.

Torque sensing helical differential maintenance is oil change only

MT oil uses the red line 75W90"NS" (reduces slipping of the friction plate of the mechanical LSD).

If gx200 is added to Coco, does the metal surface protection be good and do not conflict with friction reduction?
I'd like to answer your question.
The manufacturer seems to have a track record of a combination of mechanical LSD+LSD oil + GX200 with friction plate.
It is said that the improvement was seen in the reduction of chattering sound and the effectiveness of LSD (I think it is time to start working).It seems to have been very useful in the race vehicle, such as it becomes completely unnecessary, that it was repeatedly repeated lying the initial torque adjustment by the sim adjustment before Maruyama molybdenum injection.
Like you, I had the image of improving lubricity and reducing frictional force with molybdenum disulfide, but when the parameters of pressurization were added, the situation seemed to be very different.
We see the literature that friction materials such as brake pads and linings are also mixed with molybdenum disulfide for friction albey adjustment.
It seems that the pad which decreases early as old times does not necessarily work well.The reason is that the genuine pad (especially Toyota) in recent years has excellent braking power and durability.
The friction plate of the mechanical LSD is not a mixed friction material like a brake pad, but a metal plate.
Helical and torsen type are also mechanisms that use the frictional force between metals as differential restrictions, so you may get good results that are different from the image.
We look forward to hearing from you after the GX200 injection.
Maruyama Molybdenum Base Power Details>
How to achieve 200,000 kilometers of driving in good condition – Rare additive to extend the life of your car (Kansai area only)
We are looking forward to hearing from you in the comments section for your thoughts on maruyama molybdenum base power.
Where can I buy Maruyama Molybdenum Base Power? Please order from the form below.Business sales are not possible.
Maruyama Molybdenum Base Power Order Form